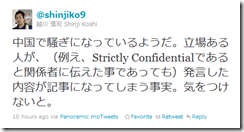 This is according to Digitimes's unnamed sources at least, who are expecting a new set of handsets running Windows Phone 7, including the Asus E600.
The source also confirmed that support for Chinese localization for Windows Phone 7 will have to wait till the second part of 2011, with Microsoft trying to rope in Lenovo, Huawei Technologies and ZTE. 
Lending further support to this is this tweet by shinji koshikiawa,  the Mobile Business Lead of Microsoft Japan, who complains:
(Microsoft) China is in trouble. Executives' speech often makes the headlines even if they preface it is "strictly confidential".
The tweet appears to relate to a  speech by Yang Tianyang, Microsoft's Greater China director, regarding both late 2011 support for Chinese Windows phone 7 and also the "Mango" update which will bring Windows Phone 7 up to version 7.5.
Thanks Tezawaly from nanopho.jp for the tip.