There hasn't been too much information about Scalebound since its unveiling back in 2014. That's changing a little bit, though, and Jean Kellams from Platinum Games took to Xbox Wire to talk about the game. He goes into detail on the various systems involving dragons in the game, and it's definitely interesting.
At the core of all of the game's customization is dragon DNA. Dragon DNA is modified in three different ways – morphing, parts, and armor. According to Kellams, these elements allow every single player to make a completely unique dragon. Each "core" dragon class (Rex,  Tank, and Wyvern) is connected in an evolutionary cycle, and you'll be able to make hybrid classes by morphing your dragon. Morphing also allows players to combine visual attributes, too. Kellams also mentioned an example of what you can make with morphing, too.
You can even make our personal favorite – fat Rex. He's a blend of a Tank and a Rex that is a bit slower than a normal Rex, but can also take and deal more damage.
Dragon parts are also interesting – they're physical modifications of your dragon, and boost its offensive abilities. Each one is a permanent upgrade, and they also have an effect in Berserker Mode.
Appearing in Berserker Mode, which is like Dragon Form for Dragons (worst name ever™), you can imagine these parts as organic and animalistic extensions of Thuban's body. These cover offensive buffs, while armor covers defensive.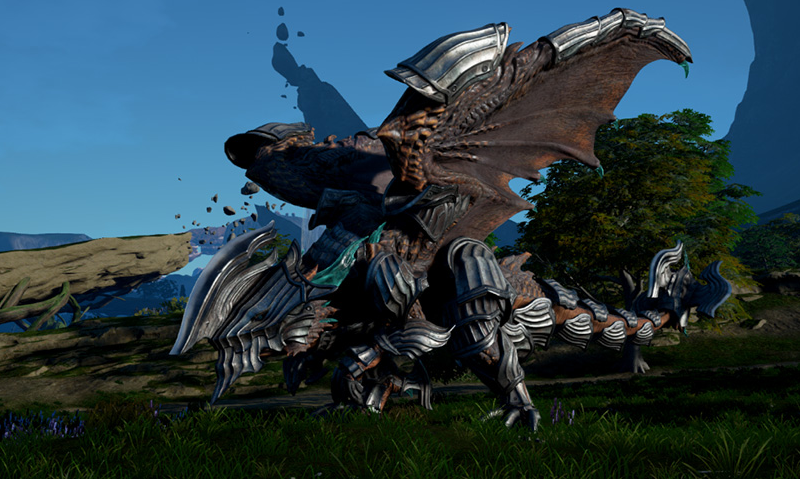 The final part of dragon DNA is armor, which is forged by humans. While other modifications to your dragon require items like gems, you'll purchase armor with the game's currency. Also unlike other modifications, armor can break. You'll be able to repair armor after fights, but if you leave it alone too long, don't be surprised if it snaps in two.
The post also details something called "Dragon Link", which allows players to control their dragon.
Once you've set up Thuban to match your play style, how does this resonate in combat? That's where Dragon Link comes in. We're debuting Dragon Link as a way to directly control Thuban through Drew's point of view, making your dragon a playable character. Using a button press, you'll be able to switch in and out of the mode to exploit enemy weaknesses and create openings for Drew.
Scalebound is coming out sometime next year for both the Xbox One and Windows 10. It will be an Xbox Play Anywhere title, meaning that a digital purchase for one platform will work on the other.
Are you looking forward to Scalebound? Let us know in the comments below!