In 2015 Microsoft's new CEO Satya Nadella said he wanted people to not just need Windows, but to love Windows.
A recent YouGov survey did not answer that question but did show the love for the company was increasing, particularly amongst those aged 18-34.
The YouGov BrandIndex survey from May 2018 found Microsoft's Impression score, which asks consumers if they have an overall positive or negative impression of a particular brand — has reached its highest point in the last two years, climbing from 36 to 40.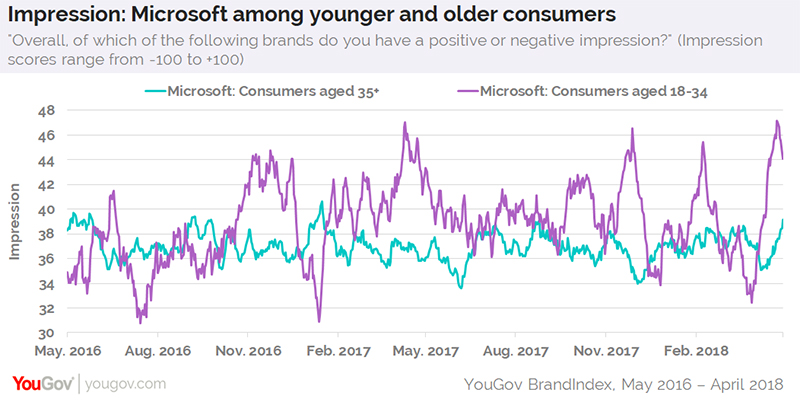 Amongst those 18-34 years old Microsoft did even better, with Microsoft scoring 44 on the index in that age range, compared to 39 for those aged 35+.
Today's Microsoft is of course all about providing services no matter what your platform, and as a service company are somewhat more responsive to the needs of their users. Another positive could be that much of the tumult of the upgrade from Windows 7 to Windows 10 may be over, with the relative stability giving users less reason to dislike the company.
Those who liked Microsoft more also liked cloud services more, with 52% saying they trust that using cloud storage is just as secure as saving information on their computer or phone, compared to 39% of Americans aged 35 or older. They were also optimistic about technology in the future, with US adults who hold a positive impression of Microsoft more likely than members of the general public to believe that, in the future, artificial intelligence will help humans in most of their daily tasks (67% vs. 62%). At the same time, they also valued their privacy,  with Microsoft admirers less likely to agree that people only worry about personal data on the internet if they have something to hide (20% vs. 24%).
Do our readers think Microsoft is succeeding in their goal of becoming a beloved brand, somewhat like Apple and Google? Let us know below.
Via WindowsLatest