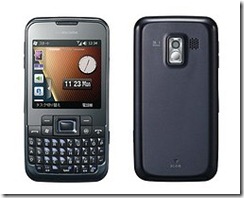 Samsung Electronics has announced the release of its new Windows Mobile phone, the Samsung SC-01B on the Japan's largest carrier, DoCoMo.
The handset will be part of DoCoMo's DoCoMo Pro series, aimed at business users.
"The SC-01B model is a dedicated smartphone model for DoCoMo, and we expect it to be a first step in expanding our mobile phone offering to DoCoMo customers," said Sophia Kim, spokesperson of Samsung.
The SC-01B sports a 2.6-inch TFT-LCD display with 320 x 320 pixels and 65,000 colours. The 3-megapixel camera phone has a QWERTY keypad and uses the Qualcomm MSM7225 chipset.
Read more at TelecomsKorea here.