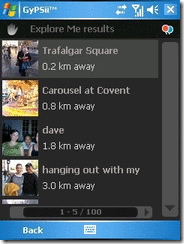 GyPSii social networking software is now available as a free download to Samsung mobile phones from Samsung's App store.
GyPSii is a location-based social networking, friend-finder, local discovery, content-creation and sharing application and service running on mobile and web platforms.
GyPSii has the following main functions:
PlaceMe – record a moment in your life and share it with your friends and other GyPSii members. Add a photo, video or audio and upload it. GyPSii finds your location from your GPS so other people can see where it is on their mobiles and on the web.
SpaceMe – show which friends are closest, see where they are on a map and contact them.
ExploreMe – discover what's around your current location, view photos, video, play sound recordings. Share what you've found with your friends.
FindMe – see where you are right now on a map
Sanj Matharu, Samsung Mobile's global relations manager, said: "Applications such as GyPSii will play a large part in the success of our online store and in turn enable people to gain maximum value and enjoyment from their Samsung devices".
"Availability across other mobile operating systems is also of great importance to us, so we look forward to working with GyPSii as we extend to Windows Mobile and other platforms in the near future," Matharu said.
GyPSii hopes that Samsung releasing its software for free will increase its profile.
Shane Lennon, GyPSii's senior vice president of marketing & product development, said: "The Samsung Mobile Applications Store is another great distribution point to help GyPSii reach the millions of Samsung device owners around the world."
Download the client from Samsung here.
Via Techwatch.co.uk