Samsung Electronics announced today that it will showcase eight interesting new projects related to Artificial Intelligence, developed from its C-Lab, at CES 2019.
The eight new C-Lab projects include: an in-video virtual ad service 'Tisplay', an ASMR sound recording solution 'aiMo', an instant video making service 'MEDEO', an AI news  analysis service 'PRISMIT', a custom perfume making service 'Perfume Blender', an auto-adjusting monitor 'Girin Monitor Stand', an AI desk light 'alight', and a hearing assistant  solution 'SnailSound'.
Created in December 2012, C-Lab is an in-house idea incubation program that encourages a creative corporate culture and nurtures innovative ideas from Samsung employees. The program supports the development of ideas from all areas of the business. Introduced in 2015, the C-Lab spin-off policy helps Samsung employees who have successfully completed C-Lab projects to launch their own start-ups. Samsung supports the spin-off companies through seed money investment and business consulting to accelerate their growth, while guaranteeing their independent management.
"We will present promising C-Lab projects leveraging AI technologies in the field of video content creation, perfume making and more. These are deeply related to our daily lives and we hope to catch the eyes of attendees," said Inkuk Hahn, Vice President and Head of the Creativity & Innovation Center at Samsung Electronics.
The projects in more detail include:
1. aiMo
'aiMo' is an ASMR sound recording solution using a smartphone and cover case that simulates the human ear. When recording ASMR content with this solution, creators not only obtain spatially more enhanced sounds in terms of sound directivity, they also produce vivid, realistic ASMR sounds with AI sound rendering software without professional recording devices. Anyone can easily create high-quality ASMR sound content – even when outdoors.
 2. MEDEO
'MEDEO' provides an instant video making service which allows users to shoot  and edit simultaneously.
Analyzing the scene and context with AI technology, MEDEO automatically integrates visual effects and background music and blends videos with the recorded videos during live streaming. In addition to that, it provides fully automated 1-click video rendering at an expert level that extracts only the core scenes of the saved video.
3. PRISMIT
'PRISMIT' is an AI news analysis service which creates issue-driven timelines in order to help readers understand the issue at a glance. When the user searches an issue or event, PRISMIT automatically curates the top five articles that are most representative among of the numerous articles available using issue clustering technology. This helps readers understand the context and history of the issue while many services simply offer the most read or most recent articles.
4. Perfume Blender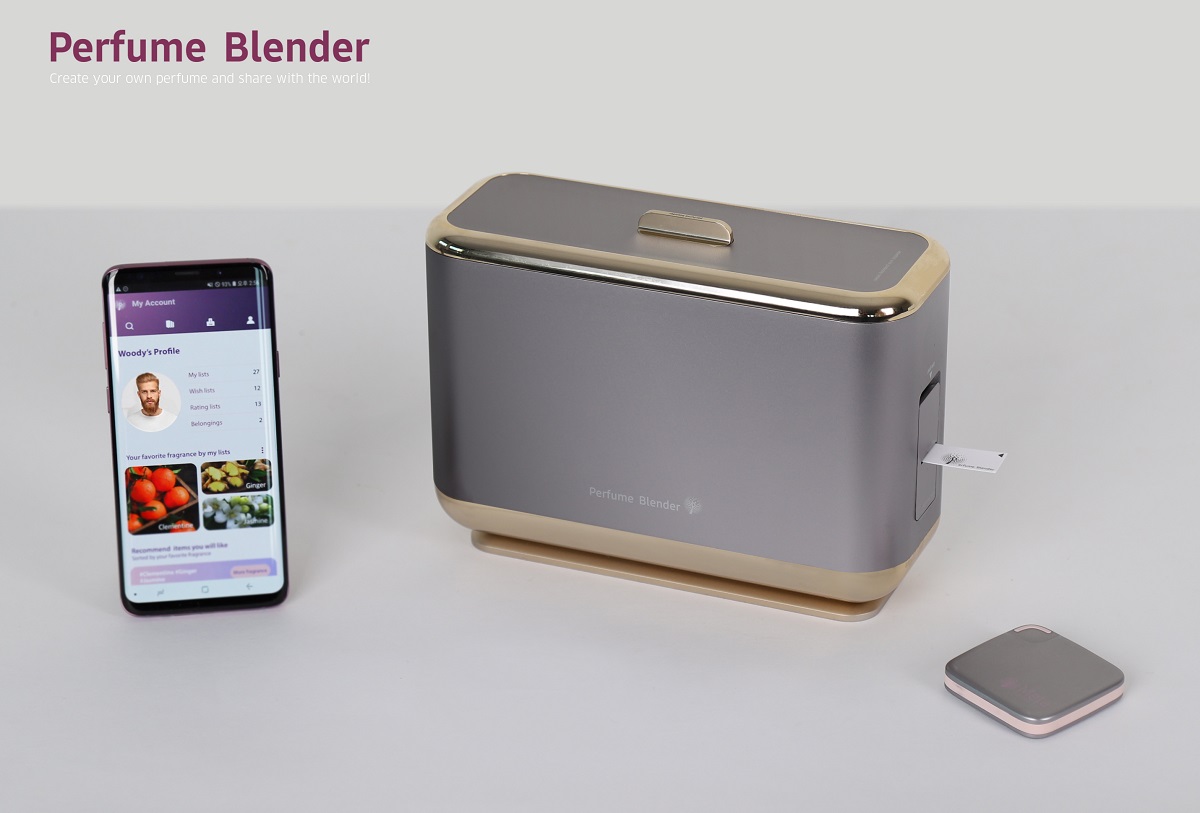 'Perfume Blender' is a custom perfume making service that enables users to make a customized fragrance with a compatible device and share the recipe through the app. When the user takes a photo of their favorite perfumes with the app, it analyzes the common ingredients and recommends fragrance recipes that the user might like. The user can directly make the perfume with those recipes or create a perfume by adjusting the ratio of the recipes through the device which has eight ingredients.  Users are able to purchase additional scents.
 5. Girin Monitor Stand
'Girin Monitor Stand' is an auto-adjusting monitor stand to ensure users have proper posture while on their computers at work. The sensor embedded stand keeps tracking the user's posture, especially neck and head, in real-time. When the user has a bad posture, it subtly moves the monitor which naturally trains users to assume better posture without noticing the change in monitor position. Users can correct their posture by repeating this pattern to avoid postural strain in the neck, back, and shoulders.
6. alight
'alight' is an AI desk light which provides an optimal environment to increase concentration and provides lighting which is beneficial for the health of users. It detects user actions through the embedded camera and automatically changes the light according to the situation such as study, relax and focus. It comes with a controller which alerts the user to focus on study when the user is using a smartphone or sleeping. It also provides study history and time lapse videos of studying through the app.
7. SnailSound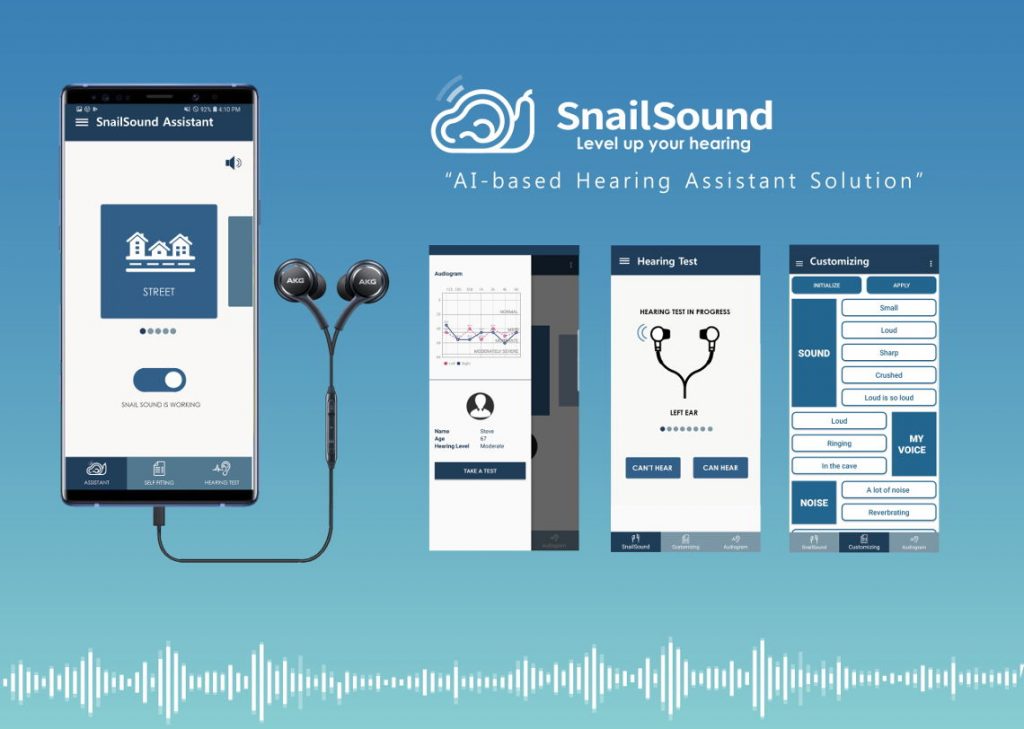 SnailSound is a hearing assistant solution for people who have trouble hearing sounds. It consists of an app and an earpiece. The app analyzes user-preferred sound from feedbacks by simple hearing tests, then calibrates the sound to be heard clearer. With a smart nonlinear amplification and AI-based adaptive noise suppression algorithms, SnailSound amplifies inaudible sound and suppresses background noise at the same time to give a better hearing experience to the hearing impaired without expensive hearing aids.
8. Tisplay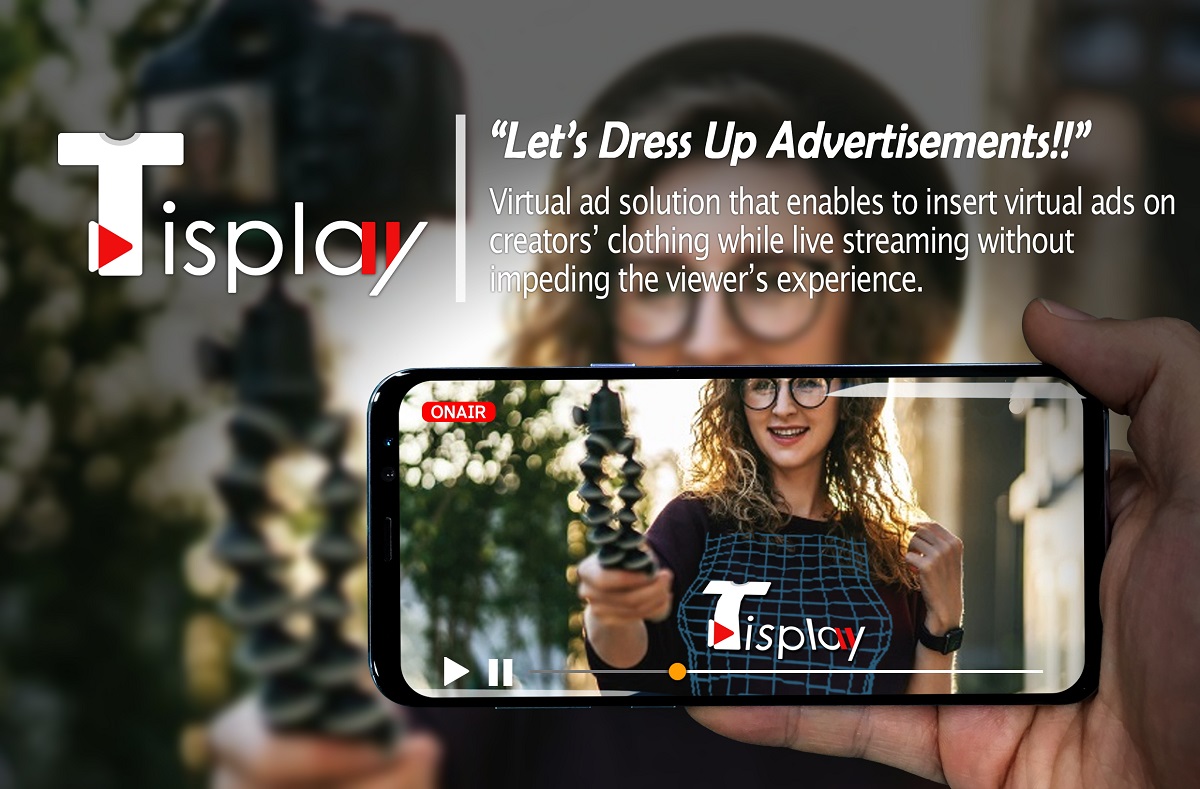 'Tisplay' is an in-video virtual ad service for creators to use while live streaming. Tisplay recognizes the surface of the creator's clothing and places the ads as if they were actually printed on the clothing through computer vision and graphics technology. Creators are able to place not only ads but also various images related to the video content in a way to communicate with viewers in real-time. Furthermore, viewers can enjoy videos without pausing due to mid-video pop-up ads which often feel like spam.
In addition to these projects, eight start-ups which have been spun off from Samsung C-Lab – MOPIC, LINKFLOW, lululab, WELT, Cooljamm company, MONIT, BLUEFEEL and analogue plus –will participate at CES 2019 to showcase their newly released commercial products and explore global business opportunities.
Three of these C-Lab spin-offs have been recognized as CES 2019 Innovation Awards winners. One notable example is the wearable camera FITT360 by LINKFLOW, which was given an award in the Digital Imaging category for two consecutive years. MOPIC and lululab also received awards in the Portable Media Players and Accessories, and Biotech categories. Since 2016, C-Lab spin-off companies have been named winners six times and have proven their marketability and technology.
For more information, please visit the booth #52102~#52118 in Sands, Hall G (Eureka Park Marketplace) on January 8 – 11, 2019.