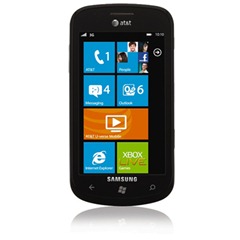 Despite the upgrade issues the Samsung Focus is widely felt to be the best Windows Phone 7 handset in USA. It seems Microsoft's PR about user satisfaction for Windows Phone 7 handsets are true after all, with Samsung Focus users more satisfied with their phones than iPhone users on AT&T. 
The handset also beats the iPhone in reliability, reception, call quality, text messaging, email, web browsing, and gaming, and equals the phone with the iPod in it for music player.  In  fact the only category where the iPhone leads is app availability and quality.
The Samsung Focus is even more likely to be recommended than the iPhone by its users.
In fact the handset has the highest overall score next to the Verizon iPhone, which appears to lack the AT&T iPhone's reception issues.
The PCMag reader survey is not your usual web poll, but in fact uses invitations sent out to readers at random to complete an online survey administered by Equation Research and has been running for several years, and therefore have some validity.
The survey also compared all the smartphone OSs on all the platforms, and found Windows Phone 7 again only second to the iPhone in overall score (8.4 vs 8.1) and very far ahead of Windows Mobile (6.4) indicating that Microsoft has certainly succeeded in their goal of putting user experience first.
Read more on the survey here.
Thanks Smith for the tip.