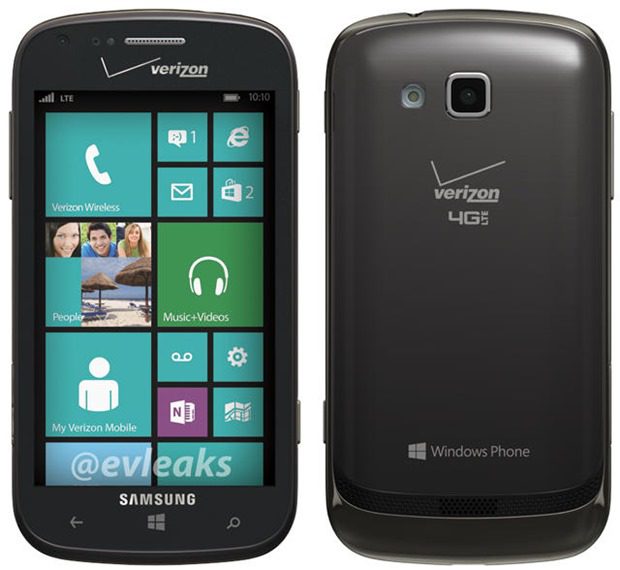 Evleaks, who's connections can not be denied, has just posted this tweet, suggesting Samsung's first new Windows Phone on Verizon should start shipping on the 24th, and presumably hitting stores soon after.
The mid-range Windows Phone 8 handset has already seen its official launch at CES and features:
Super AMOLED Display (WVGA 800×480)
5-megapixel rear-facing camera with LED flash and full 1080p recording and 1080p playback
Front-facing 1.2-megapixel camera for video chat
Global Ready calling and email capabilities in more than 220 countries in the world
Wi-Fi connectivity (802.11 a/b/g/n)
8 GB on board storage (actual formatted capacity is less) / 1 GB RAM
Support for up to 64 GB microSDâ"¢ card
2100 mAh battery
Photo Editor – Edit photos (crop, rotate, resize, etc.) and adjust colors (contrast, RGB and hue) instantly; users can also add effects such as Pop Art, gray-scale, red eye correction and add decorations that include frames, stickers, etc. and share on Facebook, Picasa and Photobucket.
Mini Diary – Contains daily activities, photos and drawings; users can share their diary via social channels including Facebook, email, Picasa and Photobucket; users can back up and store information in the free cloud service SkyDrive.
Now – Provides weather, news, stock and currency updates instantly
Then it was announced for "the coming weeks", which it appears may be closer than we expected.
Are any of our readers tempted by this handset over the Nokia Lumia 822, which is not the prettiest handset, but does have Nokia's special app sauce? Let us know below.