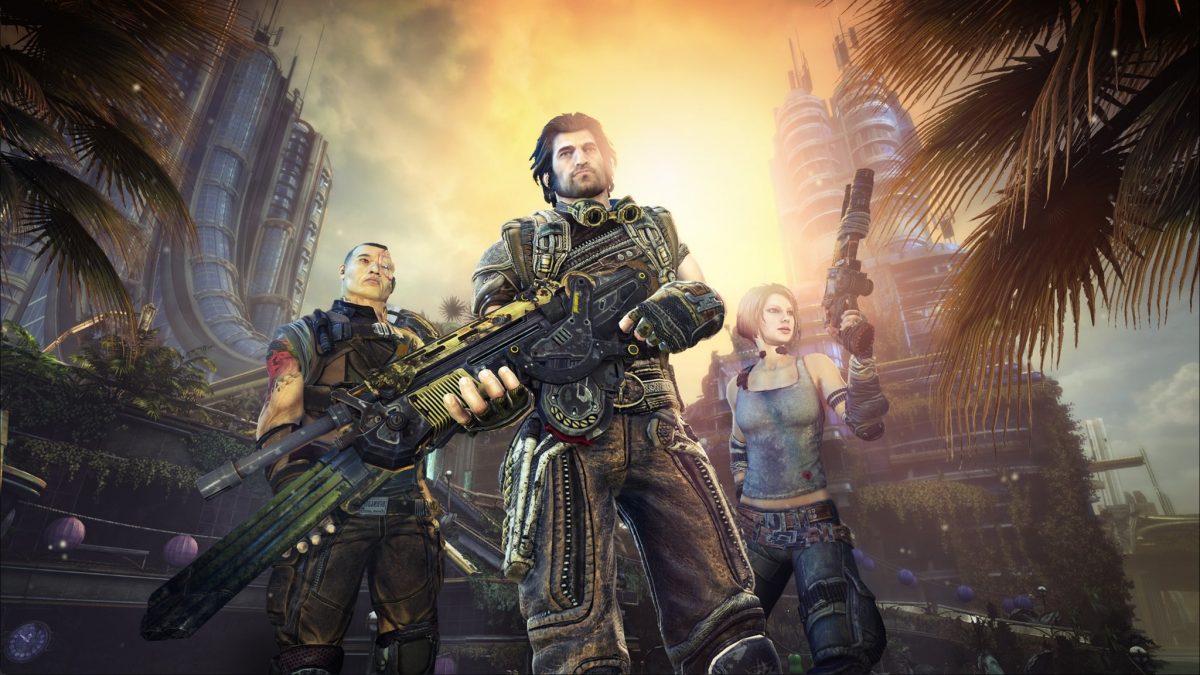 Bulletstorm: Full Clip Edition is the remastered version of the original first-person shooter and supports a faster frame rate and improved visuals. During the course of the short campaign, you step into the shoes of the drunk Grayson Hunt…after a crash landing on an abandoned resort planet forces him to make a difficult choice between survival or revenge. As an exiled member of the elite assassin group Dead Echo, Grayson's blind desire for vengeance finds his crew stranded on Stygia where he finally confronts the commander behind his betrayal.
The game requires you to battle your way through hordes of Stygia's mutated inhabitants, performing masterful kills throughout the single-player campaign or multiplayer maps. Bulletstorm features a skill shot system which rewards players for executing the most creative and deadly kills imaginable. Let's say you want to take on an enemy, instead of simply shooting them for 10 style points, you can pull them towards you with your energy leash and then kick them into a cactus-like plant for 100 style points. Finding new ways to decimate your foes is the main purpose of the game.
Bulletstorm: Full Clip Edition looks amazing in its remastered form. The high-definition visuals  and blistering fast frame rate add to the title's appeal. The game felt bogged down on Xbox 360 due to the console's limitations but on Xbox One it excels. Bulletstorm: Full Clip Edition feels like a completely different experience despite its problems.
Apart from the style points system, the game contains numerous upgrades and you become deadlier the further you progress. Players can unlocked charged shots for all weapons which do incredible amounts of damage. For example, you can eliminate a mini-boss with one shot if you're using the shotgun. However, the special ammunition is quite expensive so you have to use it sparingly.
One of the main issues with Bulletstorm: Full Clip Edition has to be the fact that you can't jump. The game is basically first-person Gears of War. This makes the player feel like they have less freedom. Had the controls to vault over obstacles been reliable, this wouldn't pose such a problem. Unfortunately, it feels like they work only half the time so sometimes, during intense situations, you regularly get stuck behind objects and have to go back a few steps and try again. The copious invisible walls don't help either.
Just like in the Gears of War titles, People Can Fly wanted to protect the gamer from unnecessarily falling off ledges because they don't have the ability to jump. Unfortunately, this doesn't work in the first-person setting because you're constantly bumping into them. The game features diverse and open environments but you're always limited to a predetermined path. For example, let's say you want go through a shallow fountain instead of all the way around to get to a group of enemies. Well, you can't and have to circle around. The restrictions to movement are incredibly frustrating at times.
While Bulletstorm: Full Clip Edition appears to run at 1080p 60 FPS, it suffers from continuous micro stuttering. This happens throughout the campaign at random moments, especially when you trigger a checkpoint. Apart from that, intense situations like when a giant Godzilla-like monster emerges from the ground noticeably affect the frame rate. Most of these problems occur outside of combat so they don't detract from gameplay but they're still noticeable. The game could definitely use a little bit more polish on Xbox One.
The best addition to Bulletstorm: Full Clip Edition has to be Duke Nukem's Bulletstorm Tour. This add-on allows you to play the entire campaign as the hilarious Duke Nukem. While Gray is a likable rogue, no one beats Duke. Duke Nukem's Bulletstorm Tour adds another layer to the campaign and gives you a taste of what a modern Duke Nukem title would look like. Duke is a perfect fit for this environment and I hope Gearbox Software release a new game with him.
Overall, Bulletstorm: Full Clip Edition is a fantastic title despite issues with movement and frame rate. If you haven't played the game on Xbox 360, be sure to check it out on Xbox One. As expected, this is by far the best version of the game. However, what truly makes it special is the ability to play as Duke Nukem.