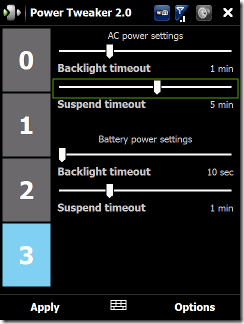 Endorser.org has released a new application called Power Tweaker.  The software allows you to set up 4 power profiles. Each profile defines backlight timeout and power off time for both AC and battery modes.
This application also allows you to set up a default profile that should be applied after each soft reset. This is very useful if you often use applications that change setting to keep your device alive and tend to reset without quitting them. This app will restore settings to your preferred ones.
This application is free of charge for personal and commercial use.
Read more at Endorser.org here, or download the can by entering this tinyurl in your mobile browser: tinyurl.com/powertweaker
Via 1800pocketpc.com