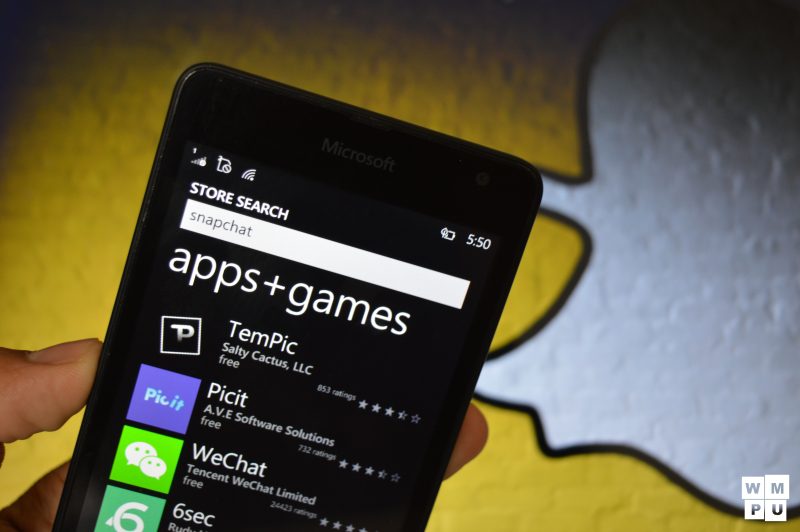 In nearly every aspect of life, there is a set of trade-offs one expects when making choices. In eating fast-food, you trade quality for convenience, in getting on the tube or other public transportation you trade agency for convenience, in buying a Windows phone, you trade apps for experience.  While Windows phone's app availability situation has been a – shall we say – running joke for years. While much of the apps that most people used like Facebook, Twitter and WhatsApp are available, some of the newer and more specialised apps like Twitter's Periscope, Instagram's Boomerang and more still remain conspicuous in their absent.
In the past week, yet another Windows petition has been created and signed by Windows phone users in order to attract attraction of Evan Spiegel and Snapchat to the possibility of a Windows phone app. From a cursory look at the petition, I do not believe that such a petition would be able to convince Snapchat to create a Windows app. For one thing, if Snapchat does not want to create a Windows app due to too few users, then a petition which is unable to meet 500 users in 2 days would be unlikely to convince the firm of the usefulness of bringing their Snapchat app to Windows phone.
Aside from that, Snapchat is already aware that Windows phone users want to use Snapchat, they just don't care. Microsoft has attempted to convince them before, Rudy Huyn's 6Snap app would have provided them with actionable data in the form of potential user base and third-party Windows apps would have helped give a full picture of the viability of Snapchat on Windows. They have all this data in their hands, they've made the decision that its not worth it.
A commenter on the petition points out that it would take minimal effort for Snapchat to build such an app, saying:
Snapchat can be easily available to Windows Phone mobile in various ways.
1) Facebook and Instagram have successfully shown that project Islandwood can facilitate and help developers maintain an app for iOS and W10.

2) Rudy Huyn, a Windows Phone developer has also shown how he can single handily create the same app with features that work well in Windows Phones. Colaborating with this serious programmer could both benefit Snapchat and windows phone community.
3) If not interested in developing an app for the specific OS, to create a set of safe APIs and let third party groups create an app to deliver the content to users (Twitter, Instagram, and many other big names are able to do this — it would be nice to see that Snapchat has the end user in mind).
It is not in dispute that it would be trivial for Snapchat to create a client or at least let Microsoft do it, the fact remains that the firm does not believe that this would be a viable tactic for whatever reason.
Furthermore, there's another issue with the quality and desirability of Windows phone apps and services that make it unlikely for this petition to be effective. While  iOS and Android apps are used by their developers and provide polished experiences, several Windows apps for big companies are not used by the people who develop them owing to them being not particularly polished. The reason is that the developers who build these app experiences do so because they use these other platforms and are invested in making sure the app experiences are as good as they can be. You would be hard-pressed to find a Windows phone in Silicon Valley, and I trust it'll be an even more difficult task to find one in Snapchat HQ.
Finally, there is the bleeding mobile ecosystem problem. While apps like Facebook Messenger and Instagram finally appear on Windows 10, apps like Amazon and PayPal are leaving. Not only that, but the incredibly low sales of Lumia devices in the past few quarters and Microsoft's lack of commitment to consumer Windows phones makes it easier for a social app like Snapchat to ignore the OS. In other words, there's a bit of uncertainty around the whole Windows 10 Mobile ecosystem, and while we're reasonably certain Microsoft won't kill it, it's also very likely that the choice isn't up to them but to the third-party developers. If Microsoft can't keep developers who directly make money via Windows apps in the Windows store (Amazon and PayPal), how much more value does their store offer to someone like Snapchat, especially with regards to mobile devices.
In the end, while petitions like this are "feel-good" and help users to think that they are doing "something", they are ultimately useless. Apps  are built on business cases, not appeals to emotion. A petition which does not present a god business case for Snapchat to create a Windows phone app, is merely another petition that will be consigned to oblivion.