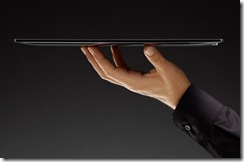 Plastic Logic showed of its eReader today.  The device has a letter-sized (8.5" x 11") E-ink screen with a capacitive layer that is claimed to be "shatterproof" and which Gizmodo called "the best ebook touchscreen out there".
The reader, which features WIFI and AT&T 3G and runs Windows CE under the hood, is aimed at professionals, and as can be seen in the video above, supports easy annotation and cross referencing and allows viewing of documents in PDF, Word, PowerPoint, and Excel formats.
The device will still however support more entertaining content, with Barnes & Noble as a content partner, allowing over the air newspapers, books and periodicals download.
The device supports PDF, DOC, DOCX, XLS, XLSX, PPT, PPTX, text, RTF, HTML, JPEG, PNG, BMP, ePub, and eReader formats.
Plastic Logic previously announced an agreement with the Detroit Media Partnership via which the e-reader will be offered as a replacement for home newspaper delivery.
Plastic Logic said full product specifications, availability, and pricing for the Que will be announced on Jan. 7, 2010, at CES.
Via Gizmodo and WindowsforDevices.