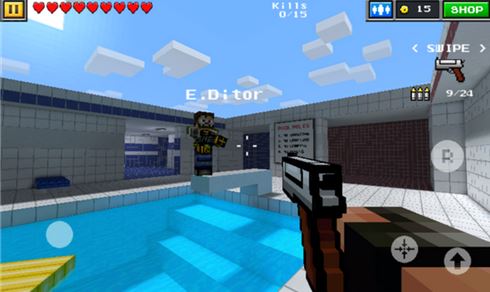 Pixel Gun 3D is a Minecraft-esque shooter game that features worldwide multiplayer gameplay. It has lots of different maps, various modes to provide you a long and interesting game play. This game is already popular on Google Play Store and Apple App Store with over 5 million downloads. Unfortunately, there is no trial available for this game.
Main features:
***DEATHMATCH***
Choose your gun and enter the battle!

– up to 10 players online; a lot of cool maps ; awesome guns, from Laser Rifles to Heavy Axes!

***TEAM BATTLES***
RED or BLUE? Which team will won the match? This cool mode allows you to fight team on team!
Modes:
– 4×4; 3×3; Duel; You can set a password for a private game!

***TIME SURVIVAL***
Try to survive with players online from all parts of the world!
– Many types of deadly enemies;
– Custom matches with awards;
– Easy and fast connection.

And moreover you can play CRAZY ARENA MODE! How many waves can you stand! Try the awesome Pixel Gun 3D right now! Choose your SKIN, NICKNAME and Play extreme multiplayer modes!
Download it here from Windows Phone Store for $0.99.