Have you been browsing Pinterest and come across a stunning video that you'd love to download and save for offline viewing or use? While it's quite easy to download videos on platforms like Instagram, Pinterest doesn't provide a direct download option for videos. When faced with this problem, you can consider using a Pinterest video downloader to help you save those captivating videos. In this blog article, we will take a look at some of the top Pinterest video downloaders that are available on the web as well as Google Play.
Best Online Pinterest Video Downloaders
Before we embark on the discussion of top Pinterest video downloaders, its crucial to remember that downloading videos from Pinterest may be subject to copyright restrictions. Therefore, it is recommended to use any video downloader app for personal use only and to obtain necessary permissions or licenses when intending to use the downloaded content for any other purposes. That being said, here are some of the best Pinterest video downloaders: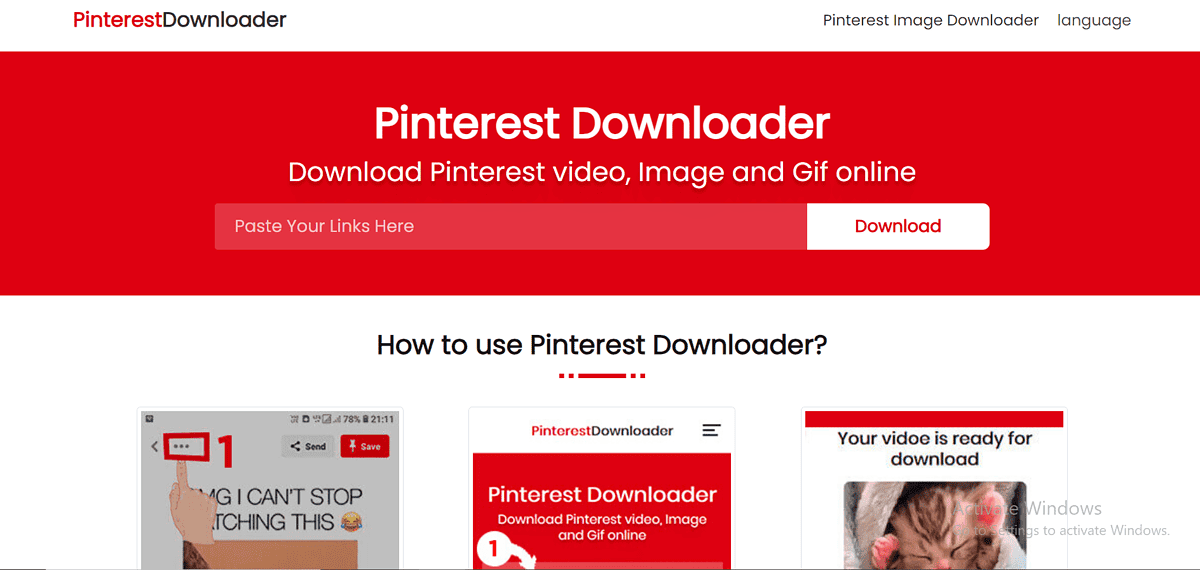 Pinterest Downloader is a simple web-based tool designed for downloading images, gifs and videos from Pinterest. It offers a number of convenient features that make the downloading process seamless and hassle-free. First, you don't have to create an account to use it. Second, there is no limit on the number of videos you can download using Pinterest Downloader. Whether you want to save a single video or a whole collection, the tool allows you to download as much content as you need.
Finally, Pinterest Downloader prioritizes user privacy and security. It does not store any video or track any of the downloaded videos. Therefore, you can use this tool anonymously and safely knowing every video you download is straight from Pinterest's CDN servers. The tool is free to use, so go ahead and try it.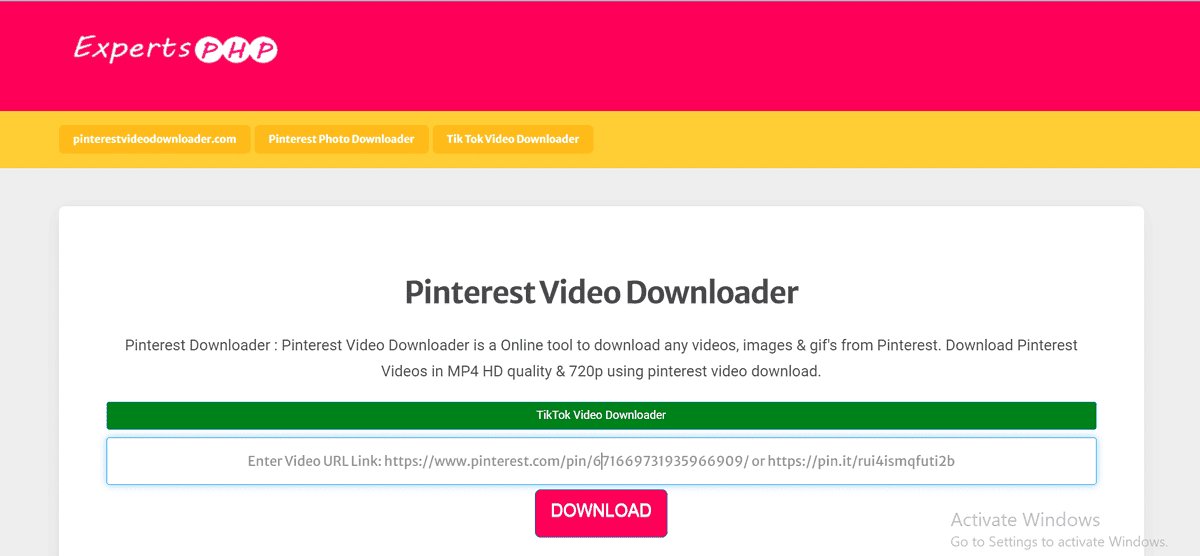 ExpertsPHP is another notable web-based tool that offers a reliable solution for downloading videos from Pinterest. It is designed to deliver fast and efficient downloads, hence you won't have to wait long for your downloaded video to be ready. This allows you to seamlessly integrate Pinterest videos into your creative projects or enjoy them for inspiration whenever the need arises. Additionally, it supports downloading 720p and HD quality videos, and thus you get to enjoy videos with crisp visuals and clear details.
According to their website, the tool has  24/7 availability. Therefore, when you need a Pinterest video at 3 AM on a sleepless night, you can rely on ExpertsPHP to assist you. For a free tool, ExpertsPHP is quite impressive.
Pastedownload is a powerful tool that comes with a host of features that make it one of the most preferred downloaders. One notable feature is its resumable download functionality, which allows users to pause and resume their downloads at any time. This feature is particularly useful when dealing with large files or unstable internet connections, as it ensures that you can pick up where you left off without having to start the download process from scratch.
This web service also offers flexibility in choosing the desired video resolution, allowing you to download videos in high definition or standard definition based on your preferences. Just like Pinterest Downloader, Pastedownload doesn't require you to sign up or create an account, and you can download as many videos as you want.
Best Pinterest Video Downloader on Google Play
In addition to web-based solutions, there are also excellent Pinterest video downloader apps available on Google Play. These apps offer a seamless and convenient way to download your favorite Pinterest videos directly to your device. Here are some of the best apps: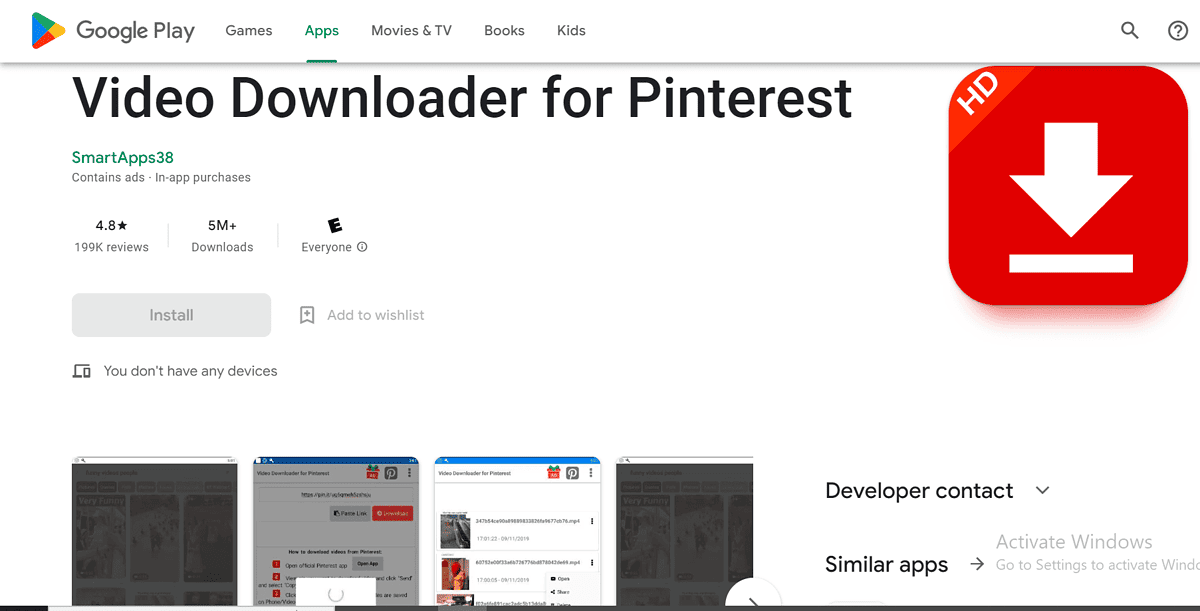 Video Downloader for Pinterest is a highly-rated app on Google Play that allows you to easily download videos from Pinterest with just a few taps. The app supports various Android versions, allowing compatibility with a wide range of devices.
Moreover, Video Downloader for Pinterest offers fast download speeds, ensuring that you can save your favorite videos quickly and efficiently. Judging from its performance and positive user reviews, this app is a must-have for Pinterest enthusiasts who want to build their offline video collection. For this Pinterest video downloader APK, visit Google Play Store today.
Although this app shares names and functionality with the previous one, Video Downloader for Pinterest is a different application built by the developer Video Download Studio. First released in 2022, this app has managed to gain popularity and positive user reviews. Its simple interface makes it easy to navigate and use. With just a few simple steps, users can quickly download their favorite videos from Pinterest and save them for offline viewing.
How to Download a Pinterest Video?
When it comes to downloading videos from Pinterest, the basic procedures are similar across most Pinterest video downloaders. While we will use Pinterest Downloader as an example to demonstrate the steps, it's important to note that these procedures can be applied to other tools as well.
Go to the official Pinterest app or website and locate the individual video you want to download. In case you do not have a phone near, check out the Pinterest web app from the Microsoft store.
Get the video URL by copying the browser link on the Pinterest website or by tapping on the share or options button (represented by three dots) and selecting the "Copy link" option.
Open https://pinterestdownloader.com/ and find the designated input field for the video URL. Then, paste the copied URL from your clipboard to the input box.
Tap or click on the "Download" button to initiate the download process. The video downloader will analyze the URL and begin fetching the video.
Wait for a few moments for the file to be fetched and the option to download it to be presented on your screen.
Tap or click on the "Download" button to commence the actual download. The video downloader will save the video to your device's storage.
Conclusion
While Pinterest may not offer a built-in option for downloading videos, the tools discussed in this article provide effective solutions for downloading Pinterest videos. Whether you choose a web-based platform or a mobile app, these tools offer valuable features and functionalities that enable you to save and enjoy your favorite Pinterest videos.  So don't hesitate to try out any of the recommended tools mentioned above!