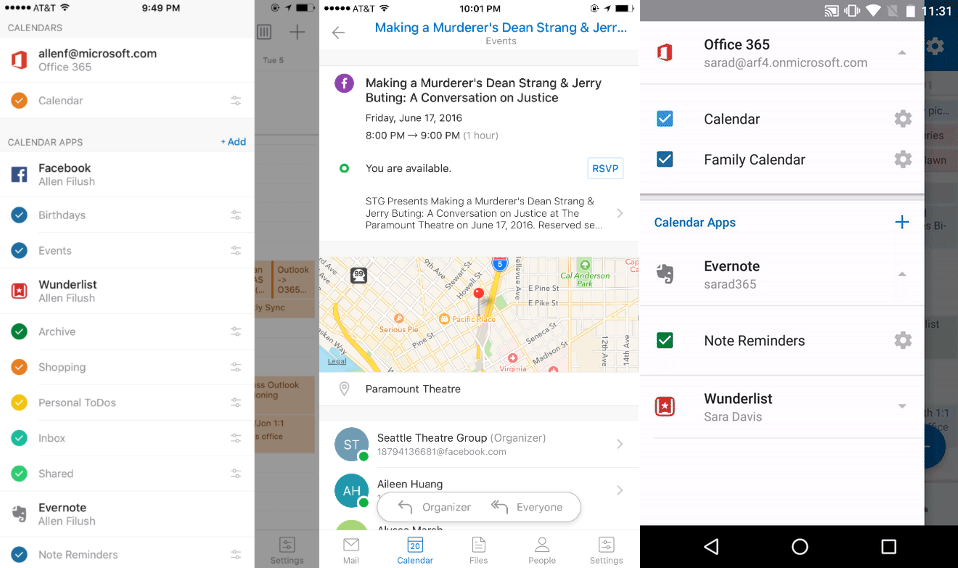 Microsoft today announced some upcoming features for the Outlook app on iOS and Android. With the latest update, the software giant is bringing integration for Wunderlist, Facebook, and Evernote to help users be more productive and get things done quickly. First up, is the Wunderlist integration which basically works with the Calendar feature in Outlook, allowing users to quickly add things from their emails or calendar events to their Wunderlist account. Additionally, Microsoft is also introducing Evernote integration, which works similar to the Wunderlist integration — you will be able to add things from your calendar and email to your Evernote, and access it from other devices that have Evernote installed or from the web.
Lastly, there is also a Facebook integration which is quite useless, to say the least. When you get an invitation for an event, you will be able to click on a button which will open the event on Facebook (if available), which will allow you to get more info from its Facebook Event Page.
These new integrations will work with your Outlook.com, Office 365, Gmail, iCloud and other types of accounts, which is really nice. It isn't yet known if these features will be coming to Windows 10 or not just yet.
What do you think of the new Outlook features for Android and iOS? Discuss in the comment section below.
---
Source: Microsoft