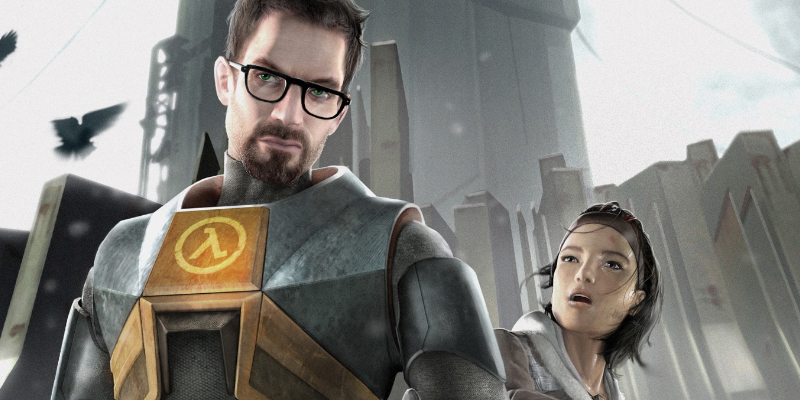 This week's Backward Compatibility update for the Xbox One is huge. While there's some other titles joining the library today, the most notable of these is The Orange Box. It's a compilation of some of Valve's (yes, the same company behind Steam) greatest games, including Team Fortress 2. Joe Danger 2: The Movie and Galaga Legions are also joining the library today.
The Orange Box contains five games in total- Half-Life 2, both of its standalone Episode expansions, Team Fortress 2, and the original Portal. Every single one of these games is highly acclaimed, even if Team Fortress 2's Xbox 360 version lacks much of the content (and "content") included in the PC version right now.
If you're not familiar with any of those titles, Half-Life 2 is a first person shooter set after an alien force conquers Earth. You play as Gordon Freeman, who was also the main character of Half-Life 1. Your goal isn't an easy one: freeing the entire planet. While it does reference the original game (and its expansions) regularly, you won't be totally lost if you start the Half-Life franchise with 2. It's a really easy game to get into, and it's worth it.
Team Fortress 2 is one of the most popular multiplayer shooters to ever be released. It's class based, with each class being represented by its own character. If you've played Overwatch, this is one of its main inspirations.
Portal is one of the most interesting games in the mix. It's a first person puzzler where the player has to create portals to get through levels. It was originally included with The Orange Box as an experiment, and judging by the success of both it and its sequel, the experiment went well.
If you'd like to buy The Orange Box, you can click here to find it in the Xbox Store for $19.99.
Joe Danger 2 is a goofy game where you play as a stunt driver on movie sets. You have to pull off tricks to not only get the high score, but also get through the level. You can find it in the Xbox Store for $14.99.
Galaga Legions is an arcade shooter, and it adds a few new mechanics to the classic. It's available in the Xbox Store for $9.99.
If you own any of these games on the Xbox 360 – either physically or digitally – you'll be able to play them on your Xbox One easily. Just either check the Ready to Install section of My Games & Apps, or put the disc into your Xbox One.
Do you own any of these games for the Xbox 360 already, or will you be buying them to play on your Xbox One? Let us know in the comments below!