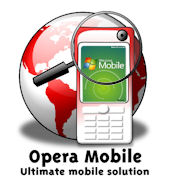 We often hear how the iPhone dominates mobile web browsing, but StaCounter begs to differ. According to their own research Opera is the world's number one mobile phone browser, overtaking iPhone in May according to data from StatCounter Global Stats. In May Opera took 24.6% of the worldwide market compared to 22.3% for iPhone.
StatCounter, which provides free website traffic analysis, is one of the largest web analytics companies in the world recording in excess of ten billion pageloads per month. In March it launched StatCounter Global Stats, a free online service which captures market share of search engines, browsers and operating systems including mobile.
"Opera began the year in number one slot but iPhone overtook it in February. May saw Opera regain the number one position," commented Aodhan Cullen, CEO and founder of StatCounter. "It will be fascinating to watch how this battle plays out over the year."
With more and more Windows Mobile devices shipping with the browser set as default it can only be a matter of time before a measurable change in Windows Mobile web browsing habits follow, which will hopefully lead to better service on the mobile web.