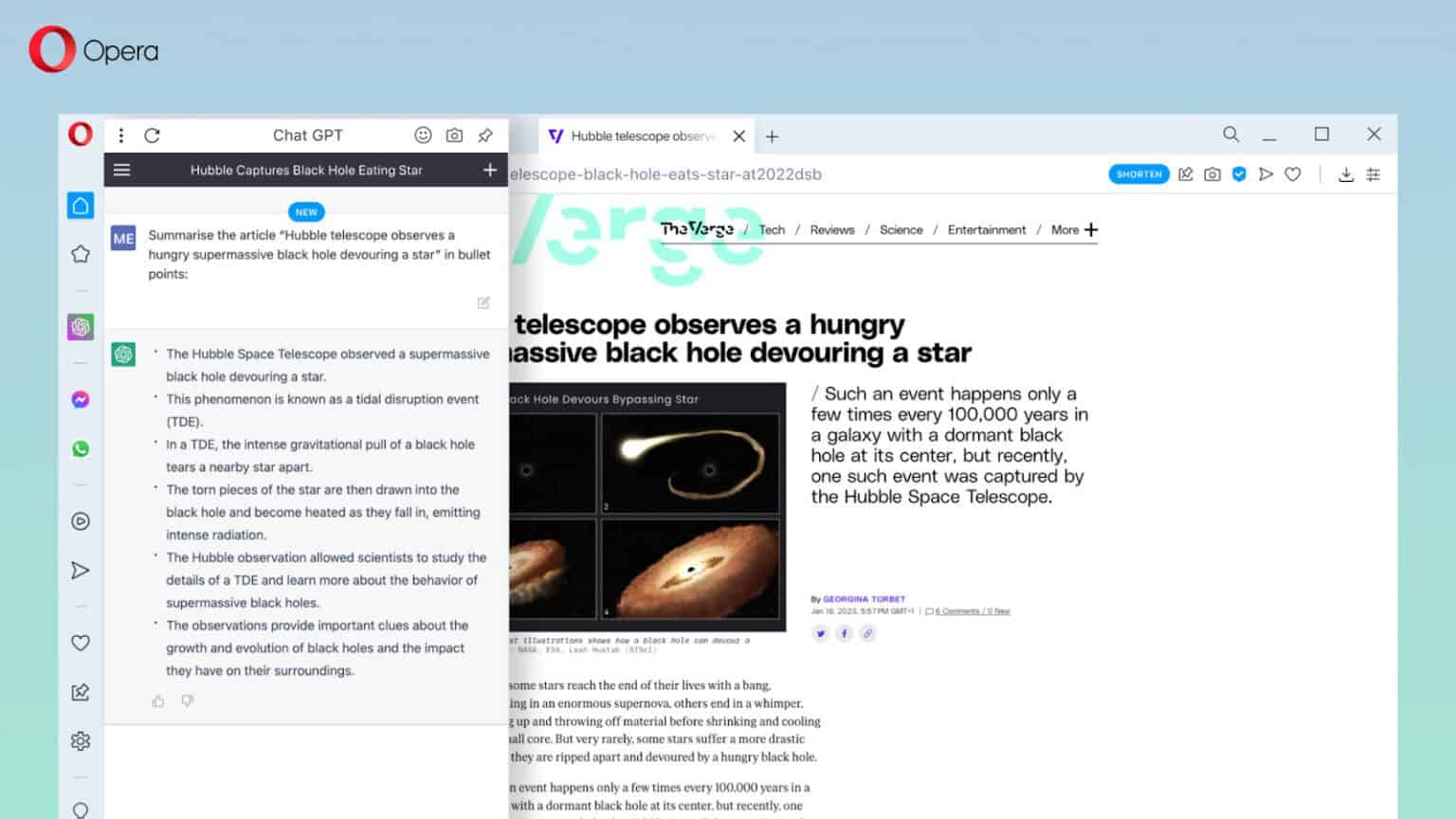 Opera is joining the AI war by unveiling a ChatGPT-powered tool allowing its browser to generate bulleted summaries of articles. The feature will be in the form of a sidebar called "Shorten." And although it is somewhat similar to the recently-introduced feature in the revamped Edge, Opera's Shorten capabilities are still limited. Despite this, the company expressed interest in pursuing the AI path to bring more intelligent features to its products and services in the future.
"In more than 25 years of our company's history, we have always been at the forefront of browser innovation. Whether inventing browser tabs or providing our users with built-in access to generative AI tools, we always push the limits of what's possible on the web," said Song Lin, Co-CEO of Opera. "Following the mass interest in generative AI tools, we believe it's now time for browsers to step up and become the gateway to an AI-powered web."  
Webpage content summary using WebGPT in the Opera browser
Opera's Shorten feature is a button located at the right of the address bar. Clicking it will summarize a specific article or webpage in bullet form, highlighting the most essential parts and details. It is not yet available to everyone, but Opera said it would launch the feature in its browsers soon.
The feature might remind some of Edge browser's new AI sidebar. However, Opera's Shorten feature is still pretty limited to giving the highlights of an article. In the Edge sidebar, there are options for the "Chat" and "Compose" modes, with the latter allowing users to set the format of the AI content they want to be generated out of a specific topic. It also has options for setting up the composition's tone and length, resulting in ready-to-use content. Despite this huge difference, Opera is clear with its intention to power its products with AI soon.
According to Opera, aside from integrating AI-generated content (AIGC) services into its PC and mobile browsers, it will also expand its "existing AI program into AIGC for its browser, news and gaming products through its own solutions and new as well as existing partnerships."
"We see the rise of Generative Intelligence as the beginning of a new future in which consumer app developers like Opera will be able to build experiences on top of AI-based platforms. We are excited to see the rapid roll-out of developer programs for solutions such as Google Bard, for example, and are starting to build and roll out new experiences in web browsing that not very long ago seemed impossible to achieve," said Per Wetterdal, Head of Strategic Partnerships and AI ecosystem at Opera.