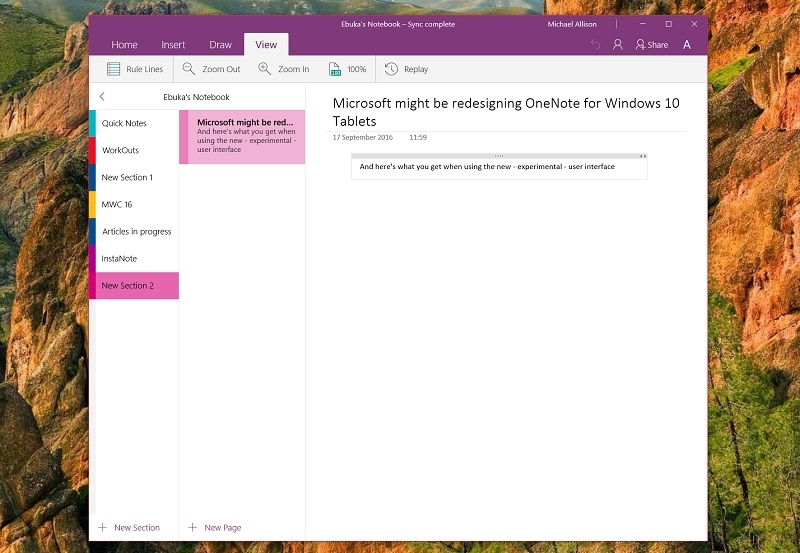 Microsoft has been working on a new user experience for OneNote for the past few months, and the firm is just about ready to roll out the updates to users in general according to tweets from a OneNote PM on Twitter.
We've got a ton of great features headed your way in the next update for OneNote on Windows 10!

— William Devereux (@MasterDevwi) January 6, 2017
Late last year, the firm promised users that "[they were] working on a ton of great features, including a brand-new UI which is more accessible and consistent across platforms. We think you'll really like it, and you'll be able to try it for yourself very soon! We also just released the ability to share a single page (instead of an entire notebook) via our app on Windows 10.". In the intervening months, updates have been rolled out to the OneNote apps for Windows 10 and Windows 10 Mobile to enable a new experimental user interface along with some hidden features – you can see a comparison of the older and upcoming OneNote interface below.
Here's what's coming so far from what we can see in the app.
A refreshed user interface
You can now hide page previews in the Notebook view, so only the content from the active page shows is on screen.
You can also now hide spelling error lines – this means OneNote will no longer redline your errors in the notebook.
Microsoft has improved usability for tablet users, making it trivial to hide the navigation sidebar and provide a full-screen view of the notes and inking section.
There's also an easier to discover toggle trigger for enabling full-screen drawings
The new update is already present for Windows 10 Insiders on the fast ring who have toggled on the experimental features, but Microsoft plans on rolling it out to the Slow Ring soon, and then everyone else.