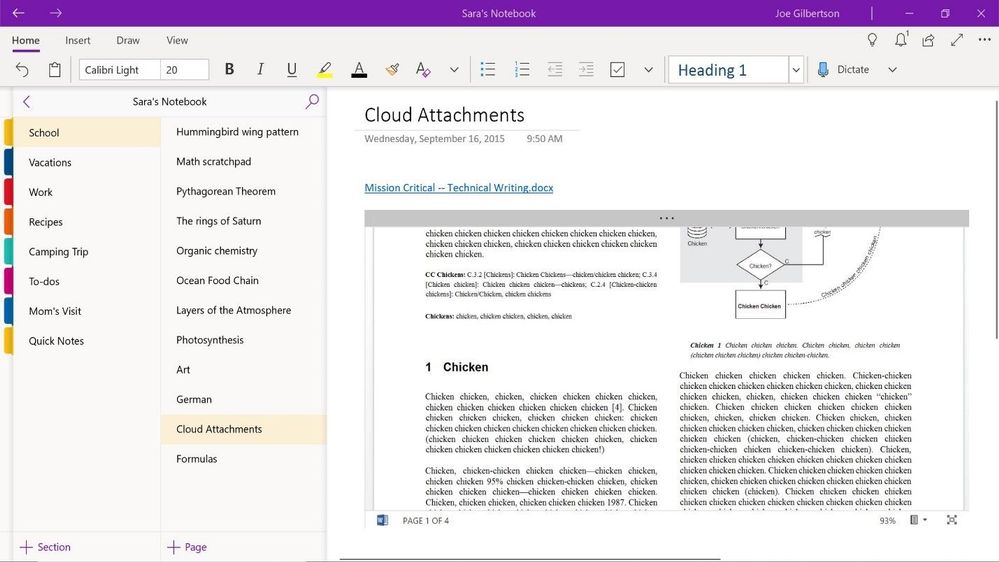 Microsoft yesterday announced the October 2018 Update for OneNote apps across Windows, Mac and Online. This is a major update with several new features including cloud file attachments, tag search, Emoji keyboard, customizable autocorrect and more. Read about these new features below.
Cloud Attachments:
When you attach a OneDrive document on your OneNote, OneNote will now keep the file up-to-date by syncing your changes from OneDrive so that you don't have to worry about whether you're looking at the latest version of a file.
Here's how it works:
You can attach cloud files simply by enabling it in Settings and clicking Insert > File.
Once your cloud attachment is on the page, OneNote will upload the file into OneDrive, which makes real-time editing and collaborating on the file easy.
Your notebook will display a live preview if it is an Office document, so you can see changes made to the file in real time.
For all other document types, the attachment will display a link, but because the files are uploaded to OneDrive, the link will always display the latest version of the file.
Cloud file attachments feature will be available for OneNote for Windows 10 and Mac in the next few weeks.
Tag Search:
Yes, Microsoft is finally bringing tag search to OneNote. Here's how it will work:
You can search for tags by clicking the magnifying glass next to the notebook name in the left-had navigation pane.
Type in your search query and choose to search all notebooks or the current notebook, section, or page.
This feature will be coming to OneNote for Windows 10 and Mac in the coming weeks.
Insert Pictures from camera in OneNote Online:
You can now insert a picture from camera in OneNote Online. To use this feature, Click Insert>Camera to select camera mode. Take a picture and click insert to add it to your OneNote page.
Emoji Keyboard in OneNote Online:
Microsoft is bringing the emoji keyboard option to OneNote Online. With this, you can browse and insert the appropriate emoji to your notebooks. Here's how it works:
Click Insert>Emoji to see a sample of available emojis.
To browse the whole collection, click "More Emojis" and the emoji keyboard will open for more ways to add flair to your content.
New AutoCorrect Options in OneNote Online:
You can now customize your autocorrect options in OneNote Online. To use this feature, go to Home>Spelling>AutoCorrect Options to choose the desired options.
Copy and Paste links in OneNote Online:
You can now create links for sections in your OneNote Notebook. Right-click on a section you'd like to share and click "Copy Link to Section." This copies a link that will render the section name when pasted into a OneNote Online document.
Sticky Notes in OneNote for iOS beta:
Sticky Notes created in Windows can now be accessed from OneNote for iOS beta apps.
Source: Microsoft