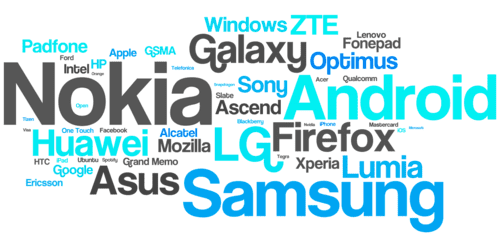 It seems Nokia is rapidly Samsunging Windows Phone, with the vendor dominating the mobile OS to such an extent that the OS will soon become relatively irrelevant.
Media company Lissted did some analytics on the chatter on twitter during the 5 days of Mobile World Congress, looking at 7,260 tweets by 619 journalists, bloggers and analysts and 419 media outlet accounts tracked by Lissted that mentioned "MWC", "MWC13", "MWC2013" or "Mobile World Congress" during the week prior to the show and during the show itself (00.00 GMT-18/2/13 to 11.36 GMT-28/2/13).
The analysis found Nokia with its Lumia handsets virtually dominated coverage of the show, being ahead even of Samsung (who was not present at the event edit: who had a significant presence but did not launch any products there) and showed Nokia it can generate journalist excitement even with its low-end offerings.
This is of course good news and bodes well for the potential success of these handsets.
Less good news for Microsoft is that while Lumia clocked in at position 9, Windows only managed position 13, and Microsoft itself 50, showing a separation has occurred between the two brands.
Less one think this was only a MWC phenomena, a look at Google Search Trends show the Lumia brand quickly overtook Windows Phone, and that the search volume between the two has just separated more and more in time.
In many ways this is hardly surprising, with Microsoft doing much less promoting for Windows Phone than Nokia has for its Lumia brand.  It should however be a warning for Microsoft – Buyers are not picking up Lumias because they run Windows Phone, and were it nor for Nokia's rather precarious financial position Nokia could as easily release an Android Lumia and buyers may not even blink.
See the full list of after the break.
Top 50 companies, products and technologies by mention
1 Nokia

2 Samsung

3 Android

4 LG

5 Firefox

6 Asus

7 Galaxy

8 Huawei

9 Lumia

10 ZTE

11 Optimus

12 Sony

13 Windows

14 Ascend

15 Mozilla

16 Padfone

17 Xperia

18 Fonepad

19 Intel

20 HP

21 Google

22 Alcatel

23 GSMA

24 Apple

25 Ericsson

26 Grand Memo

27 Lenovo

28 HTC

29 Slate

30 Qualcomm

31 Ford

32 One Touch

33 Facebook

34 Ubuntu

35 iPad

36 Acer

37 Mastercard

38 Blackberry

39 iOS

40 iPhone

41 Open (ZTE)

42 Telefonica

43 Tizen

44 Spotify

45 Tegra

46 Visa

47 Nvidia

48 Snapdragon

49 Orange

50 Microsoft
Do our readers think Microsoft needs to be more active, or would a Microsoft association actually damage sales? Let us know below.
Read more at Lissted.com here.
Thanks Mike for the tip.