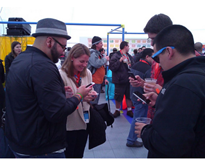 Nokia is doing South by South West (SXSW) in a big way this year, and is hosting the Nokia Labs there, showing off their full range of Windows Phones, including the LTE Nokia Lumia 900 coming to AT&T.
Where there is rumours of the handset being delayed, attendees, which include prominent new media figures are able to handle fully functioning samples of the handset.
The Nokia Labs is a 3-domed Nokia Lab located at 2nd and Brazos and besides showing off Windows Phone, will also be showcasing DJs and Live Music with three nights of teaser performances during SXSW Interactive at the Nokia Lab, along with a four-night exclusive Nokia VIP Lounge inside The FADER FORT during the SXSW Music.
More about Nokia's presence at the event can be read here.