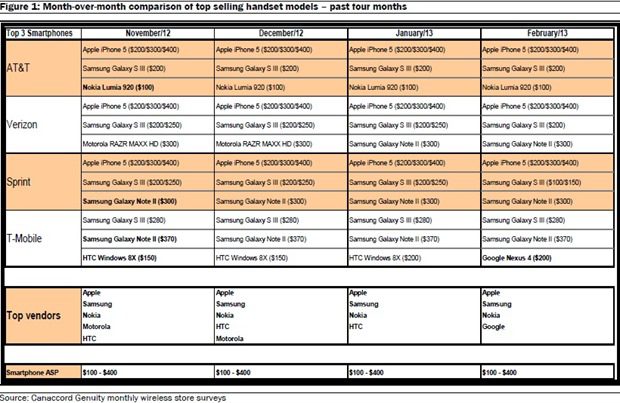 Canaccord Genuity released their estimates for handset sales rankings at the various carriers in USA and it shows good progress for Nokia in the country.
One of Nokia's main missions in switching to Windows Phone was to gain entry into the lucrative US market.  It seems the Finnish company has certainly done that, maintaining a solid 3rd position behind juggernauts Apple and Samsung for the last 4 months now.
This contrasts with its performance last year during the launch of the Nokia Lumia 900, when Nokia was only able to maintain the 5th spot behind HTC and Motorola, and only for 3 months, indicating real progress.
On specific carriers the Nokia Lumia 920 continued to hold 3rd spot also since its launch, behind the iPhone 5 and Samsung Galaxy S 3.  While Nokia does not have a ranking handset on Verizon, we have seen recent reports that the Nokia Lumia 822 is selling better than the 920 on AT&T.  This is in fact easy to explain, as the iPhone is more than 80% of smartphone sales on AT&T, leaving less than 20% to divvy up between numerous other handsets.  This contrasts with Verizon, where the iPhone is only 50% of the market, leaving a much bigger slice for the rest of the handsets to fight over.
The chart also shows that Nokia's handsets are not doing that well on T-Mobile (no surprise really, given how ugly the Nokia Lumia 810 is) but also that the HTC 8X has slipped from the rankings, replaced by the Google Nexus 4.
In the end though Windows Phone's fortunes in the USA is tied to the two biggest carriers – Verizon and AT&T, and the arrival of a flagship handset on Verizon may result in a bigger boost than we expect.
Thanks Arun for the tip.