The Nokia Lumia 625 was designed for India, offering a large screened device with mid-range specs at an affordable price.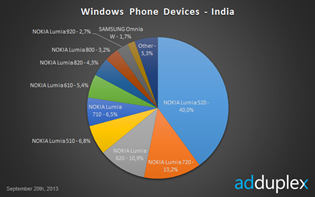 The handset hit the market in September there, and did not initially make an impression.
However one month later and the handset now has a solid 3.1% share of the Windows phone market in the region, according to AdDuplex's data.
In fact the device seems to be selling better than the now venerable Nokia Lumia 520, which was only able to increase its share of the Windows Phone market by 0.6%, and has already overtaken all of the Nokia Lumia 920's market share.
If this growth continues it is likely that it will soon become the 5th most popular Windows Phone in the region next month, and hopefully grow from there.
Unfortunately the same can not be said for Nokia's higher end Windows Phones, which in India and worldwide have failed to make a significant impression, with the Nokia Lumia 925 hardly growing its share, while the Nokia Lumia 1020 remains MIA.
Of course many sensible buyers may be waiting for Nokia and Microsoft's next generation platform, but it seems if Nokia wants volume, at the moment low-end is the way forward.