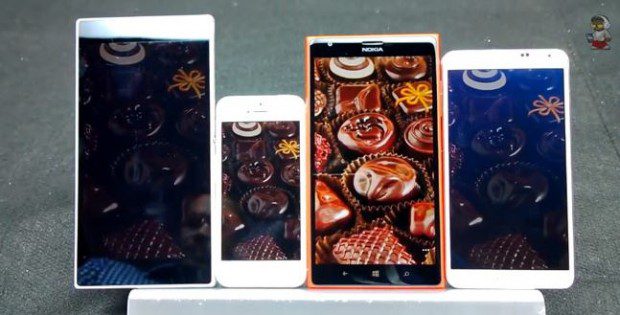 Nokia Lumia 1520 will feature 6-inch, Full HD (1920 x 1080) ClearBlack IPS LCD display. It will have high brightness mode, refresh rate 60 Hz, covered by Corning Gorilla Glass 2, Wide viewing angle, Sunlight readability enhancements and Super sensitive touch support. Apart from all these, it is also based on Apica's Assertive Display technology that makes the display stand out even in the bright sunlight.
Nokia Lumia 1520's display was compared against iPhone 5 with its IPS-LCD Retina Display, Xperia Z Ultra with its Triluminous display, and the Samsung Galaxy Note 3 with a Full HD Super AMOLED panel. As you can see from the image above, Lumia 1520's display crushes the competition.
There is a comparison video after the break. Check it out.
via: GSMArena