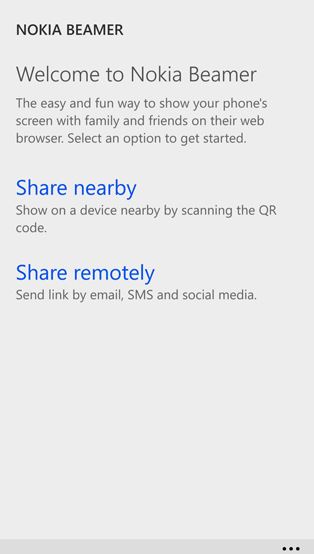 Nokia announced Beamer app for Lumia Windows Phone devices back at Nokia World. Nokia Beamer is the next generation Photobeamer app for Lumia Windows Phone devices. It allows you to share your phone's screen with anyone who have a web browser. Imagine the ability to share your PowerPoint presentation on your phone to the large displays instantly, share how to do a task using an app, etc,.
Sharing can now be performed by creating a unique URL that can be sent to others where they will be taken to a secure website. If you want to share your screen with people in close proximity, you can create a QR code on your phone that can be scanned by others – speeding up the process.

In terms of sharing your screen, there are a couple of ways to do this: continuous mode and non-continuous mode.

Continuous mode will share everything that you do on your Lumia, from switching between apps, scrolling up and down the Start screen, as well as reading emails.

The app also includes a "Manual" mode that gives you more control over what you want people to see. For example, you may want to share a PowerPoint with your colleagues during a business meeting but not want them to see what's in your mailbox as you scroll for the latest report. In this mode, a gentle shake of the phone will activate sharing-mode and show what's on your screen.

At any point, Nokia Beamer will stop sharing your screen when you press the Lock Button. If you can't see your screen, neither can anybody else.
Nokia Beamer will be available to download for the Nokia Lumia 820, Lumia 920, Lumia 925, Lumia 928 and Lumia 1020 as well for the Lumia 1520 and Lumia 1320, but you need to have Nokia Black update first to install this app.
Source: Nokia