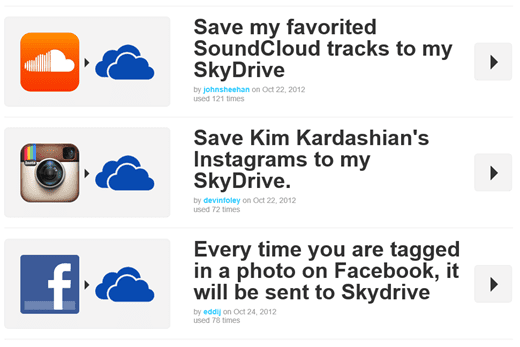 The SkyDrive team has announced an updated SDK for SkyDrive that will make it easy for developers to use the same code on Windows 8 and Windows Phone 8.
Microsoft also talked about the integration of the cloud storage service in 3 apps: IFTTT, DocuSign and SoundGecko.
 IFTTT("If this, then that") allows users to put the Internet to work for them by creating customizable recipes to bring together the power of numerous web services, such as Facebook, Foursquare, YouTube, Tumblr, and more. Users set rules by defining triggers and matching them with actions to automate activities they want. By activating the SkyDrive channel, users can save files from other services to SkyDrive in a multitude of ways. For example, you could setup a recipe that automatically saves all of your Instagram photos to your SkyDrive.
DocuSign allows users to send documents they have saved on SkyDrive, other cloud storage services, and their local hard drives. Once a document is sent, users can set automatic reminders for recipients to encourage them to complete it.
SoundGecko is a text-to-audio transcribing service that lets you enjoy written content from around the web on the go. When users link SoundGecko with SkyDrive, they get their MP3 audio transcriptions automatically uploaded to a "SoundGecko" folder in their SkyDrive account, available everywhere they go.
The .Net SDK can be  found at dev.live.com/downloads  and exists both in a client and server version.
Read more about the SDK and building apps using SkyDrive at Microsoft here.