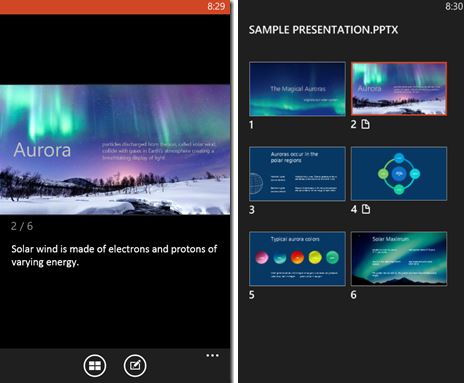 Microsoft Office team today detailed the new Office experience that will be part of Windows Phone 8. Office in Windows Phone 8 has full integration with Office 365, SharePoint and SkyDrive and allows you to access your documents wherever you go. Also Office Mobile now features the tap & share feature that will allow you to share documents via Bluetooth or NFC.
Microsoft Word, PowerPoint, Excel and OneNote apps has been redesigned with a simple and fluid navigation.
PowerPoint:
PowerPoint seamlessly renders all shapes and SmartArt Graphics, and honors your transition effects and timing. We added portrait mode with speaker notes, and slide thumbnails make navigation between slides a lot easier.
Excel:
Excel also offers noteworthy new enhancements. Workbooks open at the last saved sheet and zoom level, and navigating through a large Excel worksheet is fast and fluid. New touch-friendly handles make range selection and resizing of columns and rows a snap.

It is now easy to read cells with lots of text on the small screen. As you navigate and tap through more cells in the sheet, the new reading panel refreshes its content.
Word:
The new full-screen reading mode in Word is a true delighter: Your controls automatically move out of the way as we put the content at center stage. Controls reappear by simply tapping on the document canvas. From there you can switch to outline view for quick navigation around the document, look for comments, or edit, save and share your document. Your cloud-connected document automatically resumes where you left off reading, no matter where you last viewed your document – on your PC, tablet or phone!
OneNote:
OneNote Mobile is now a separate app, always ready to capture your notes and ideas. Just tap the new OneNote Tile and take quick text, photo, and voice notes. You also have instant access to the notes you have made on other devices, search for specific notes, and get around your notebooks easily.

One of the coolest new features is taking voice notes. Speech notes are added to the new Quick Notes section and contain audio playback alongside transcribed text. You can even dictate a note or reminder while the phone is locked, so your spontaneous thoughts are always captured.

And of course, no app makes creating to-do lists easier than OneNote. Creating a check box just takes a quick tap. We moved the icon from the middle to the left making it an even easier to hit target while typing.
Apart from these, Office on Windows Phone 8 is now available in 50 languages, supports complex script, and UI mirroring. UI Mirroring means for Right-To-Left languages, not only does the text alignment and text reading order go from right to left, but also the UI elements layout follows this natural direction of going from right to left.
Read more at Office blog.