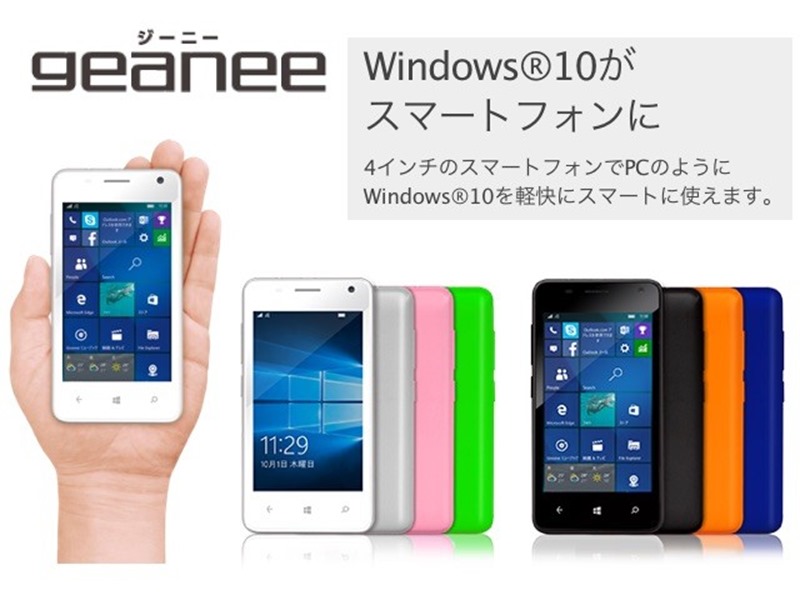 Japan has one of the lowest market shares for Windows Phone, but this has not stopped a string of Japanese OEMs signing up to release Windows 10 Mobile handsets, some even with original designs.
I suspect Genesis Holding's new 4 inch Windows 10 Mobile is not one of these, but the Geanee WPJ40-10 will still be bringing Windows 10 Mobile at a very low price to the shores of the island nation.
The device sports a 4 inch WVGA screen, 4G radio with FDD-LTE support, 1 GB RAM, 8 GB storage, microSD card support, 5 megapixel rear and 2 megapixel front camera, and 1800 mAh battery, and will be available a variety of colours, with 2 different colour fronts and many more colours in the back, including silver, pink, orange and more.
The device will come with the Neos cloud-based "SMART address book" pre-installed.
The handset will be released at the end of 2015 or early in 2016 for only 12,800 Yen ($106).
[source link="http://s-max.jp/archives/1677708.html"]s-max.jp[/source]
[via link="http://www.windowscentral.com/geanee-wpj40-10-destined-japan-4-inch-display-and-windows-10-mobile?utm_source=wpc&utm_medium=twitter"]theWC[/via]