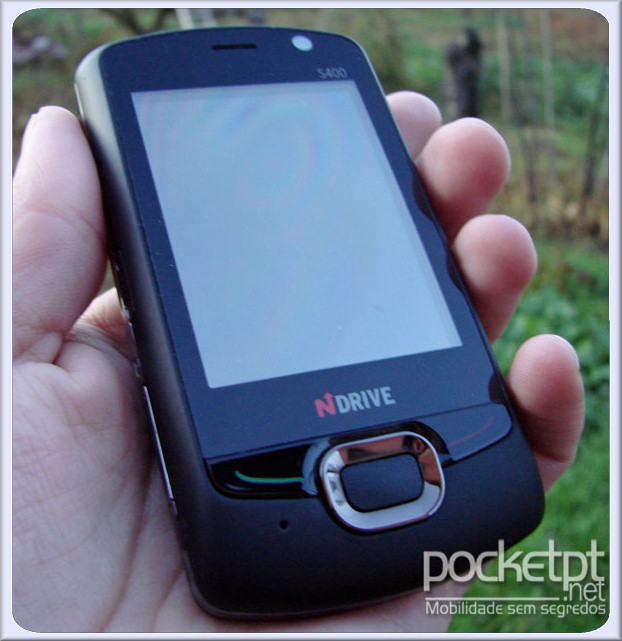 Pocketpt.net has reviewed the new NDrive S400, and the device comes across as pretty impressive indeed.
The specs are:
Windows Mobile 6.1 Professional
Marvell PXA310 processor until 624Mhz + Qualcomm 6280
Memory: 256 MB of ROM and 128 MB of RAM
Quad-band GSM / UMTS / HSDPA to 7.2Mbps
VGA screen (640 x 480) to 2.8 inches
3.0MP camera with auto focus for camera and VGA front
GPS: A-GPS SIRF III, 20 channels
Bluetooth 2.0
Wi-Fi standard b / g
MicroSDHC slot
Battery of 1500mAh
TV-Out
Accelerometer (of motion sensor) with the "shake control"
FM Radio with RDS
Dimensions: 110x60x16.9mm
USB 2.0 with support Sync / loading
The specs do not tell the whole story however. The build quality is good, and the device has thoughtful features like a scroll wheel and TV-out.
The biggest feature however, which wont be apparent from looking at the device from the outside, is the speed. On most benchmarks it is far ahead of other devices, and makes HTC's latest smartphones really look bad. The speed is not just apparent in video playback, but also in the general snappiness of the interface.
The software bundle is good, with Spb mobile shell and Touchpal pre-installed. As the device has an accelerometer it even comes with its own version of teeter, plus accelerometer control of the media player, alarm, phone calls and picture viewer.
The smartphone is also bundled with the latest version of the NDrive navigation software, version 3, which includes 3D maps.
Unfortunately the greatest weakness of the device is not any of the specs, features or functionality but ones that are superficial and cosmetic- the NDrive brandname will not sell many smartphones and the 16.9 mm thickness will make many wonder if the S400 swallowed a Diamond.
Pocketpt.net concludes:
We need to congratulate NDrive in on their achievement with this smartphone, which is a strong follow-up to its predecessor.

As I mentioned in the test, the smartphone has its largest penalty in the "bigness" but nothing serious, and while recently there have appeared smartphones that are much smaller, its current size would not have been unusual 6 months ago.

The quality of construction and materials used is the level of the best. Highlights is the excellent performance of equipment, , and an excellent GPS, makes it an excellent proposal, especially if one appreciates more the issues of performance rather than having a more "fashionable" smartphone.
Read the full review at Pocketpt.net, which includes many more photos, benchmarks and videos.