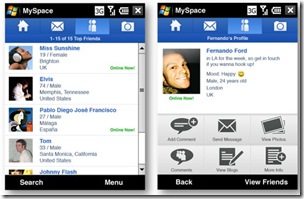 It seems Microsoft will work to keep Windows Mobile relevant by creating a series of partnerships around social networks.
Following news of Microsoft developing a Facebook application, MySpace just announced that it will bring its Open Platform to Windows Mobile phones. The new MySpace mobile application for Windows Mobile will be built on top of Microsoft's Silverlight platform. In addition, MySpace also announced its MySpace Silverlight SDK, which will make it easier for developers to build OpenSocial applications using Silverlight.
According to Microsoft, the company will also release a kit on April 2 that will allow developers to use Visual Studio and Expression Blend to create OpenSocial-based applications.
MySpace's Windows Mobile application will come bundled with LG's Windows Mobile Smartphones, which does beg the question of how this will work without Silverlight being available for Windows Mobile.
Read more at Readwriteweb.com