Reviewed on PC and Xbox One X
Sometimes one apocalypse just isn't enough. I think history has proven that humans are a tenacious group of buggers – we've lived through a lot. Global Warming, bubonic plagues, nuclear warfare – just to name a few. In the case of Mutant Year Zero: Road to Eden, all three put together couldn't even do the job.
After the worst of the worst, the human race is still standing, now struggling to live on The Ark, your typical last bastion locale. This is where you come in. As Mutants, the Arks most expendable residents, it's your job to go out and get supplies while looking like a reject for a Disney post-apocalypse cartoon.
Much like every other post-multiple-apocalypses setting, you'll unfortunately have to deal with a whole bunch of irradiated crazies. Yes, they're called Ghouls and they'll be the primary enemy type for a large chunk of Mutant Year Zero's runtime.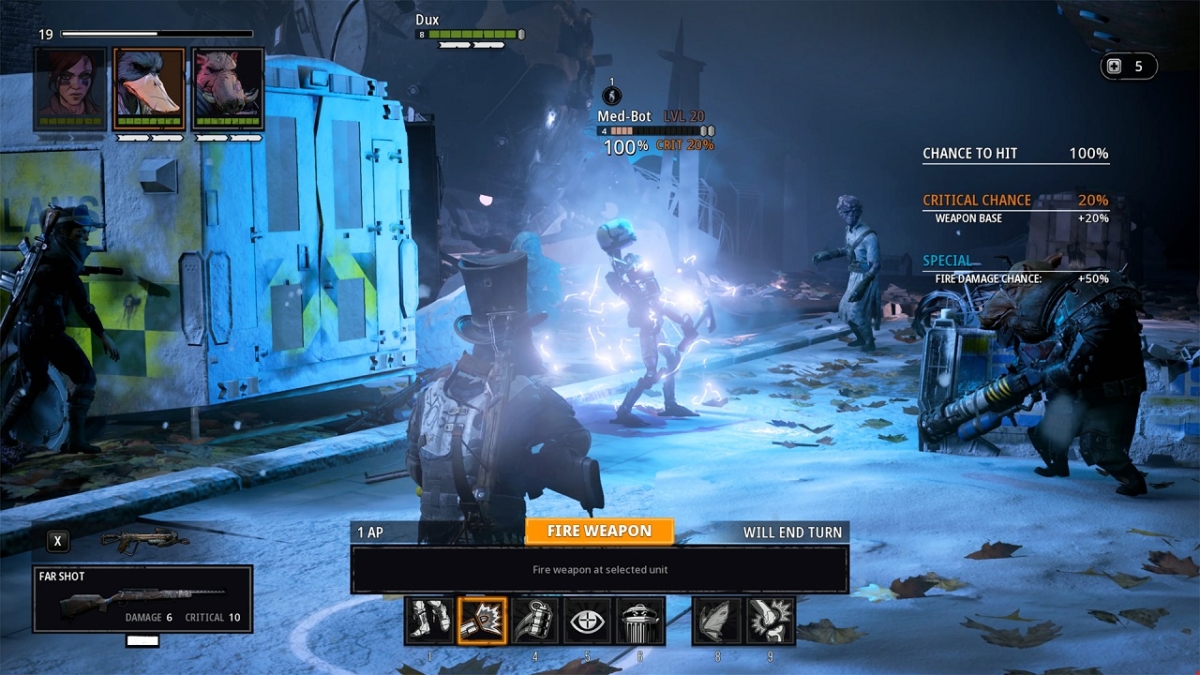 Unlike many other X-COM likes, Mutant Year Zero introduces a very meaningful addition to the gameplay structure – free roam. Deviating heavily from the mission-based structure of its contemporaries, the post-apocalyptic world is one that you can explore openly. It allows you to sneak past enemies, although there are situations where you won't be able to do that, and it adds tension in the vein of open-field JRPGs that helps to elevate the experience.
Free roam itself is an interesting thing to include in a turn-based strategy. Allowing for much easier movement through the map when not in combat, the game can feel a lot more exploratory than you would typically expect. And exploration is rewarded by the bucket turn with Scraps, upgrade and weapons littered around every level and every corner. But, once these scraps are gone, they are gone for good forcing a degree of resource management which is quite tricky when there is nothing left in the early areas of the game. During free roam mode you will have the two other members of your party following you. This can have some pretty humorous results, especially when an enemy doesn't detect a boar walking through their hideout to get to you.
The game's X-COM combat is a great fit for the setting, and one that always manages to keep that perfect balance between strategy and all-guns-blazing action. Even the UI for the combat feels strongly reminiscent of XCOM 2's, which is not necessarily a bad thing as players of the XCOM franchise will find it easy to navigate. The one standout difference of the combat system would be that charging in guns blazing will not work. Ever. To be frank, combat seems a little over-reliant on the stealth segments, forcing you to circle around the enemy patrols in free roam mode and pick off stragglers to make the large skirmishes a damn sight easier. Although on the get-go this isn't made particularly clear and it took a while to understand that facing the entire horde was not a viable solution.
Mutant Year Zero: Road to Eden | Farrow Reveal Trailer | PS4
Outside of combat and exploration, you'll spend a great deal of time back at the Ark – your hideout. Here you're able to buy items, upgrade/mod weapons and upgrade your party bonuses. You can also talk to a grumpy old man who tells you not to explore. But what does he know? That's how I've found all the good stuff! Fortunately, you can return to the ark to listen to his nattering's at any time by fast traveling to it from the map. This is also the case for the areas you have been to and the ones that are named. Saving you the time it would take to trek across the entire game map like a PS2 Monster Hunter.
Road to Eden isn't without its drawbacks. While the combat is good overall, and the exploration elements of the game are solid, there can be a few things mess with the flow of the game. One notable example, being free roam movement. While enemies have a circle telling you what their area of sight is, it's not quite clear how close you can get within the circle. There seems to be a certain range of guaranteeing getting spotted but everything before that is a bit up in the wind. Moving up ladders occasionally caused problems as if you were looking at them from the wrong direction characters could get stuck behind them or finish climbing them halfway through. The latter scenario resulting in my automatic save scum response. Changing the camera angle in combat mode is also a pain in the ass. Having to hold Q and fling my mouse around my monitor is not a practical way to rotate a camera.
Overall, Mutant Year Zero was an entertaining strategy game. While it has some issues, they don't take away from the experience the game provides. Most impressive where the Stealth and exploration segments, which while they could be a little clunky from time to time, functioned well enough to deliver a game that is well thought out and requires some critical thinking to beat.