In the second part of our Geocahing series, we highlight some more software, designed for off-road navigation, for your Windows Mobile phone which can also be used to this increasingly popular hobby.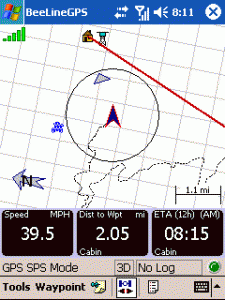 BeeLineGPS is a high performance Pocket PC cache navigation and management software tool. Mainly suited for homing into caches, it allows you to import GPX files and manage thousands of waypoints with the advanced Waypoint Manger. BeeLineGPS also includes active waypoint technology where a waypoint can trigger a warning window. Other features include waypoint averaging, altitude profiling and a comprehensive trip computer. BeeLineGPS also has specific features to help the Geocacher find and manage the cache. With many Geocache icons, BeeLineGPS can help identify found, attempted, new and other cache states.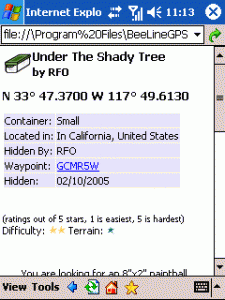 BeeLineGPS will also show detailed information using the web browser for each cache by simply clicking on the cache waypoint on the map. BeeLineGPS waypoint database can support thousands of waypoints with over 120 icons to depict specific locations.
BeelineGPS is $29.95 with a 30 day free trial.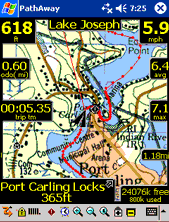 An altogether more comprehensive application is PathAway, but at $59.95 for the Standard and $95 for the Professional version is should be. The multi-purpose application supports a wide variety of activities, with its unique selling point being the ability to import maps from a wide variety of free sources. The Professional version adds features such as location sharing, location calculations, pace features, web map download.
The software allows you to import your own maps using the free Map Manager, or third-party Desktop Mapping Software such as Touratech-QV, Fugawi, or SoftMap. You can get maps from mapping web sites, CD-ROM, scanned, or digitally photographed. The maps are highly compressed and can be any size and resolution that fits within your device memory. The software features automatic or manual Map rotation for travel direction up display. When you exit the boundary of one map and enter another, PathAway can be setup to automatically switch to the new map.
You can import Google Earth KML, GPX, LOC, and other formats supported via PathAway PC Conversion Tools, or directly on your handheld. You can also transfer Data To and From Garmin and Magellan GPS Devices
PathaWay also features a useful PocketMode, where PathAway turns off the screen (or backlight depending on device), and locks the keys but continues to record GPS data to your track log while saving battery power and preventing accidental button pushes.
The last application we are looking at today is BackCountry Navigator. The selling feature of this software is the ease of importing free US topo maps and aerial photos directly from your handheld. You also get access to USGS Geographic Places for Points of Interest from over two million geographic features within the United States and free maps from TerraServer-USA.`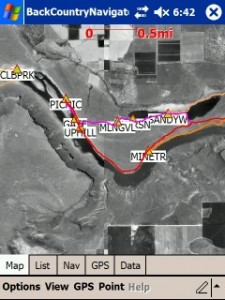 You can import GPX files and display geocache locations on your map and see formatted descriptions and hints. It will also import LOC files for cache waypoints. You can also mark your path using Tracking (breadcrumbing) functionality.
On the cheaper side of this group of software, it comes in at only $30.
See part 1 of our series here. Return back later for a look at more Geocaching applications on the Windows Mobile platform.