With many popular Windows Mobile phones, like the Sprint Touch, HTC Mongul and AT&T Tilt having built-in GPS, and of course all other windows mobile phones being able to use GPS via bluetooth, geocaching should be a popular outdoor activity for Windows Mobile affectionados.
For those who don't know, geocaching is an entertaining adventure game for GPS users. Participating in a cache hunt is a good way to take advantage of the features and capability of a GPS unit. The basic idea is to have individuals and organizations set up caches all over the world and share the locations of these caches on the internet, on websites such as geocaching.com. GPS users can then use the location coordinates to find the caches. Once found, a cache may provide the visitor with a wide variety of rewards. All the visitor is asked to do is if he or she gets something is to leave something for the cache.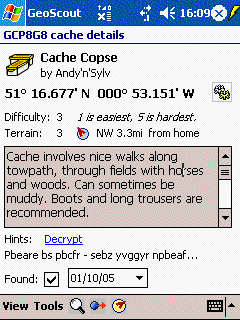 The most popular software on the Windows Mobile platform for geocaching is Geoscout. The software allows you to download, import, view and manage all caches of interest. With a connection to a suitable GPS, GeoScout can also guide you to the cache waypoint(s).
GeoScout requires individual gpx files for each cache. GeoScout can create these direct from the geocaching.com website or import existing gpx or loc files.
If you are after a slightly more polished experience GPSMission may suite you getter. The website features missions, which you can download and then perform, and allows you to create your own missions to add to their catalogue. A bit like a real-life RPG, it allows you to solve riddles, collect Gold and Awards while you complete the mission.
If you use your knowledge about your region and its local history to build up missions and publish the missions for the other users in the community you will receive gold if someone plays your mission.
There are client software available for both Windows Mobile and Symbian phones, and already many missions all over the world.
So if you want to use your Windows Mobile phone for more than work, and you are looking to get some exercise, why not try out this great activity.
For more geocaching software, see part 2 of our series here.