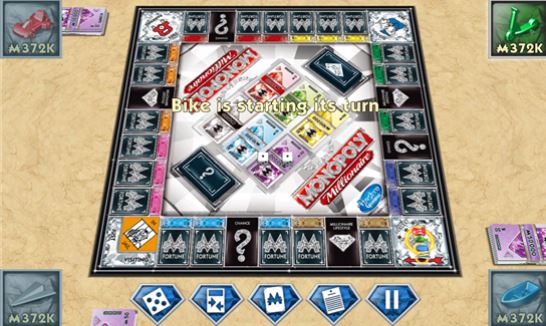 Along with the release of DaVinci Pinball, Nokia has released another Xbox title from EA. Monopoly Millionaire is now available for $4.99 with free trial available.
Game Description:
FIRST TO A MILLION WINS! Enjoy a fast, fresh take on the classic MONOPOLY game. Do you have the drive to be a MONOPOLY Millionaire? Trade properties on the sly, force powerful land-grabbing deals, and risk it all – in a private jettin', yacht clubbin' dash for a million in cash. LIVE THE MILLIONAIRE LIFESTYLE AS YOU…

• Zoom past wannabes in the fastest MONOPOLY experience ever!

• Purchase palatial Dreamland Properties like Bling Beach and Paradise Island

• Splurge on upgradable Movers – show friends how hot you roll!

• Compete for the Million with friends in Pass n' Play• Test your moneymaker with 3 difficulty modes

• Get lucky! Fortune Cards can speed up your rise OR send you back to brokeReady to feel like a million? GO for it!
Download it here from Windows Phone Store for free.