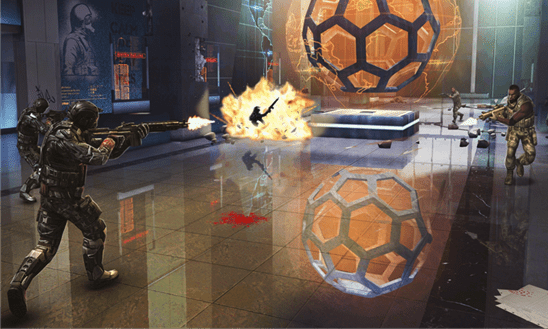 Gameloft's FPS Modern Combat 5 : Blackout has just received a big update.
In the latest instalment of the series players have to create a squad, add your friends and test your individual and team skills against other squads. The game also supports single payer mode, where you  step into a world on the brink of anarchy and shoot your way out of one dire situation after another to expose a lunatic who's trying to tear the world to shreds.
Version 1.2.1.8 brings:
SUPPORT CLASS REPORTING FOR DUTY!
Heal allies
Let your teammates respawn on the spot they died
WEAPONS APLENTY
Extra weapon tier
New Light Machine Gun
MULTIPLAYER BONANZA
Dominate enemies on two beloved Modern Combat maps: Scramble and Overtime.
Vote for the next map you want to battle on.
Get revenge in Squad Battles by asking for a rematch.
Climb the Solo and Squad multiplayer leagues.
ALL-NEW MULTIPLAYER MODE: ZONE CONTROL
Capture and defend areas to rack up score superiority
MORE CHARACTER CUSTOMIZATION
Weapon camos, masks, logos and kill signs
The Universal game is free and can be downloaded  from the Windows Phone Store here.
See the gameplay trailer below:
Modern Combat 5 - Gameplay trailer
Thanks Vinay for the tip.