Microsoft's update catalog is – according to Microsoft – "A service from Microsoft that provides a listing of updates that can be distributed over a corporate network. You can use it as a one-stop location for finding Microsoft software updates, drivers, and hotfixes."
Traditionally the site has only offered updates for Windows PC devices only, but it seems with the launch of Windows 10 Mobile, Microsoft now shows updates for phones running "Windows Mobile 10". As expected, the last updates listed are the updates for the Lumia 950 and 950 XL which rolled out a few days ago, along with all the regions they rolled out to.
Microsoft's own dedicated site for Lumia updates does not yet show any updates for Windows 10 phones, so if you're looking for info on whether your phone should have a specific update or nor, the Update Catalog is your best  bet for now.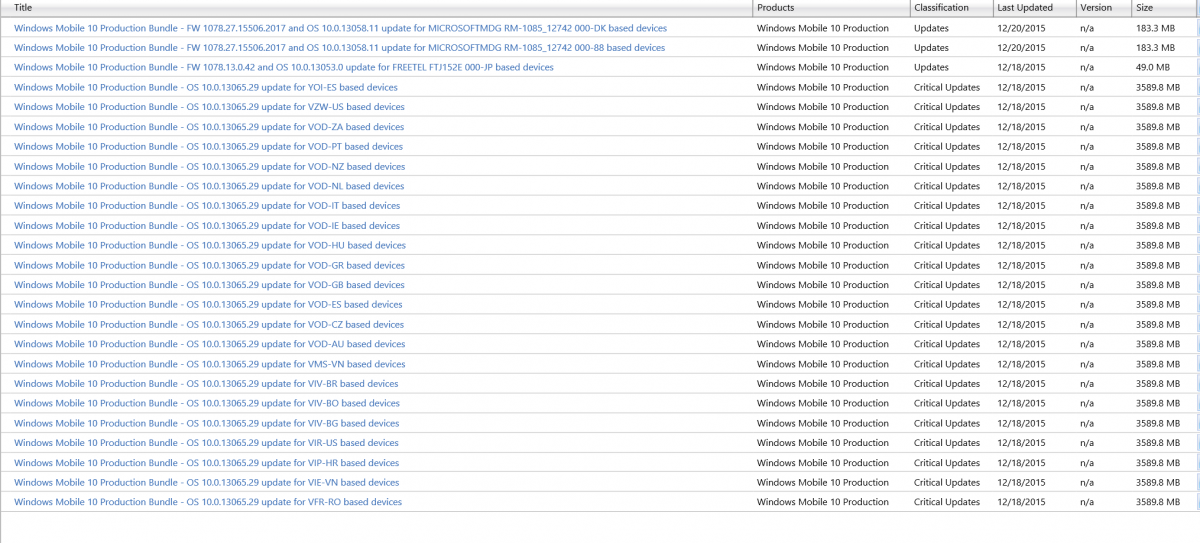 One curious thing we noticed in browsing the site is that around the 18th of December, ROMs marked the Windows 10 Mobile critical update was uploaded to the web for what appears to be every global carrier – Verizon Wireless included.
This differs from the updates to specific Windows Phones like Freetel and Lumia which were separated by their names and only had updates of a few 100 MB to download as opposed to the whopping 3.5 GB download for the others.
It has been speculated that Microsoft may have been planning to roll out Windows 10 Mobile thereabouts, but the 18th of December happened to be the last working Friday of 2015 and any update issues would have left consumers without recourse for 2 weeks.
Nevertheless, if you needed any more evidence that Microsoft is working on pushing this update out as fast as possible, then this is it.