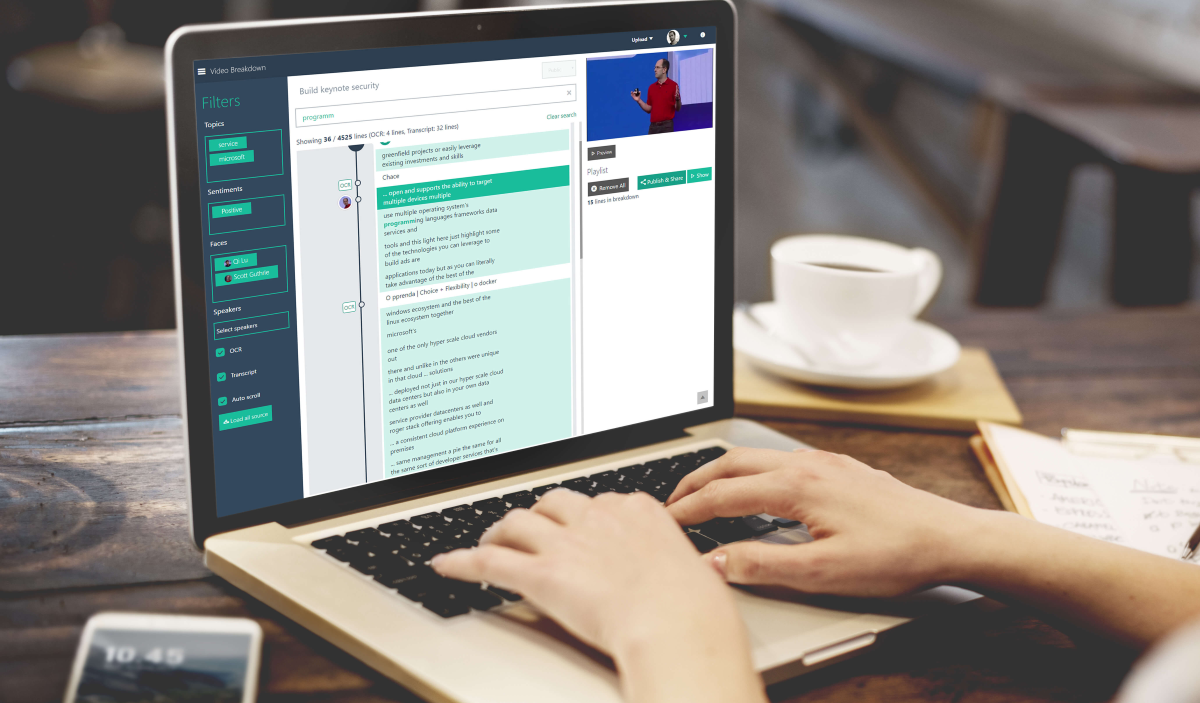 Microsoft is working on a new service called Video Breakdown. The new service is built by Microsoft's Garage lab, and it's a pretty interesting one just like most of the other Garage products. Video Breakdown will make video searching a lot easier thanks to the rich cognitive insights. The service includes intelligent features such as Face Detection, OCR, Linguistic Transcript which will make searching videos very easy. Currently, it's pretty hard to find a video you're looking for — for example, if you are searching for a video about a session from Build 2016 on YouTube, you'll need to get the title of the video right which you probably don't remember. However, with Video Breakdown, you should be able to find the video you are looking for very easily thanks to features like Linguistic Transcript and OCR. Unlike most of the projects from Microsoft Garage, Video Breakdown seems to be a web app only, but Microsoft may launch dedicated mobile apps in the future.
Here are some of the key features of Video Breakdown:
Linguistic Transcript – Convert audio to text based on acoustic language models

Face Detection – Find when does each face appears in the video

Speaker Diarization – Map and understand who spoke when

OCR – Extract text that appears in video as overlay, slides or background

Face Identification  – Understand who is the person that appears as face

Voice Activity Detection – Separate background noise and voice activity

Contextual Search – Understand the context of search results

Sentiment Analysis – Understand the level of positive vs negative spoken or written content
These features are very similar to some of the features that you'll find in various Azure video services. However, Video Breakdown will also offer secure streaming with AES encoded videos. Currently, Video Breakdown is only available to those with an invite at the moment, meaning that you won't be able to use it just yet. We'll let you know when Microsoft opens it up to the public — in the meantime, let us know what you think of it in the comment section below.
You can checkout Video Breakdown (Preview) here.