Microsoft has developed a new technology which makes it easier to track your remaining work on an Office document.
Designed to avoid distraction and let you keep working without interrupting your "flow", the technology would let you type:  TODO: finish this section or  TODO: <<insert closing here> and Word will automatically create a list of activities that need to be completed.
When you come back to the document, you'll see a list of your remaining to-dos, and you can click each one to navigate back to the right spot. (see the gif below.)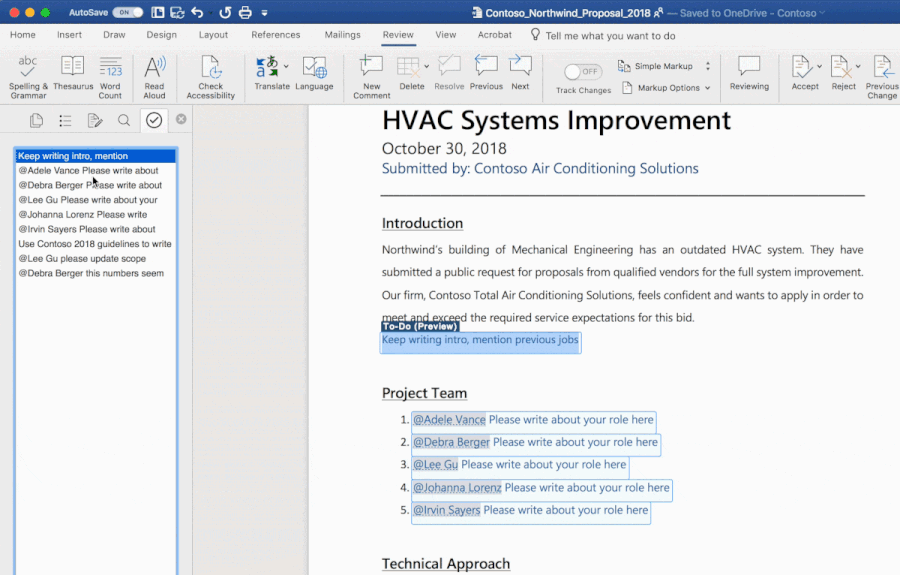 Once you've created your to-dos, Word can also help you complete them. If you need help from a friend or coworker, you can @mention them within a placeholder. Word will send them a notification with a "deep link" to the relevant place in the document.
In the near future, they will be able to reply to the notification with their contributions, and those contributions will be inserted directly into the document—making it easy to complete the task with an email from any device.
Eventually, Microsoft hopes their Office AI will be able to fill in those placeholders automatically, by using  Microsoft Search to suggest content for a to-do like <<insert chart of quarterly sales figures>>. You will be able to pick from the results and insert content from another document with a single click.
Microsoft is testing the feature first on Word on the Mac for Office Insiders (Fast) as a preview.
Office Insider for Mac has two speeds: Insider Fast and Insider Slow. To get access to this and other new feature releases, you'll need a subscription to Office 365. To select a speed, open Microsoft Auto Update and on the Help menu select Check for Updates.
Microsoft plans to roll these features out to all Office 365 subscribers soon for Word for Windows, the Mac, and the web.
Source: Office blog, via Engadget.com