Microsoft is today introducing a new service called StaffHub on the Web, iOS, and Android. StaffHub (previously known as Project Sonoma) is mainly for small businesses who are looking for a better way of managing their team's work schedule. With StaffHub, your manager will be able to easily create and manage shift schedules for their team from the web app. StaffHub includes a very simple user interface which makes things a lot easier, and managers are also able to color-code different shifts for easier identification. StaffHub also provides some handy features such as the ability to clone an existing shift/schedule, which can be quite handy if your business' employees have the same schedule multiple times a week.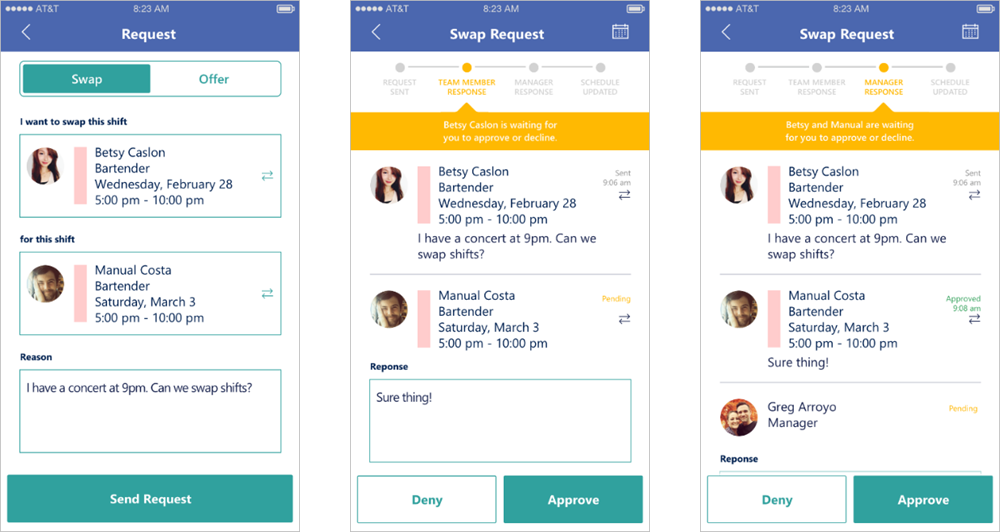 StaffHub is, of course, available for Android and iOS smartphones. In fact, it seems like Microsoft's main focus is deskless workers who are unable to access their schedule from a computer — which is why the mobile app is going to be useful for them. Users will be able to view their shifts for a day and see notes for each shift, too. Another feature that is available on StaffHub is the ability to change a shift — for example, if you don't want to attend a shift and want to swap it with another team member, you can simply send a Swap Request. From there, once your team member accepts the Swap Request, your manager will have to review the request — after that's done, StaffHub will automatically update the schedule. Lastly, it is worth mentioning that StaffHub also includes some other features such as the ability to share files, and send messages.
Microsoft is starting the public preview of StaffHub today, and customers of Ofice 365 K1, E1, E3 or E5 can request a promo code for StaffHub's Public Preview today. If you are already part of the StaffHub preview, you checkout the StaffHub website here, download the iOS app here, and the Android app here.