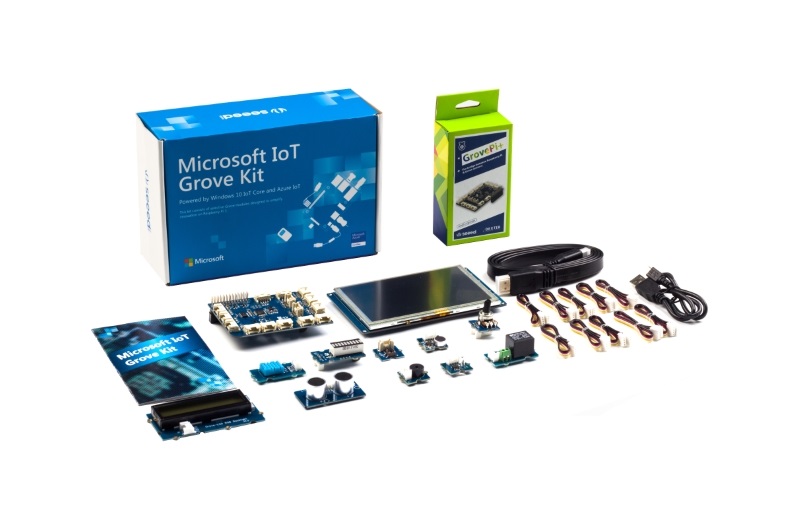 The new Microsoft IoT Grove Kit is an easy to use solution for Makers, as well as a powerful prototyping platform for IoT startups and enterprise innovators. Building up an IoT project on a Raspberry Pi has never been an easy job for most developers as it involves messy hardware connections and complicated software programming. Microsoft is trying to solve this problem with their new Microsoft IoT Grove Kit.
The GrovePi+ cape included in the kit is fully compatible with a Raspberry Pi B/B+/A+/2/3 that runs the Windows 10 IoT core for rapid maker projects. With the GrovePi+, the gap between the powerful Raspberry Pi and the easy-to-use Grove system has truly been filled. Users are now able to connect up to fifteen Grove modules to their Raspberry Pi simply through the Grove interfaces on the GrovePi+ and then start their journey of Internet of Things exploration.

The kit not only provides high performance Grove sensors and actuators, but also contains a 5 inch HDMI display and an RGB LCD with backlight that can be used to display information as needed.
This kit includes the following,
1x GrovePi+
1x 5 Inch HDMI Display with USB TouchScreen
1x Grove – Relay
1x Grove – Temp&Humi Sensor
1x Grove – Ultrasonic Ranger
1x Grove – LED Bar v2.0
1x Grove – Rotary Angle Sensor(P)
1x Grove – Buzzer
1x Grove – Sound Sensor
1x Grove – Light Sensor v1.2
1x Grove – Button
1x Grove – LCD RGB Backlight
1x Flat HDMI Male to Male Cable (1M)
1x Micro USB Cable (1200px)
10x 26AWG Grove Cable
You can pre-order Microsoft IoT Grove Kit at Seeed Studio Bazaar and Digi-Key.