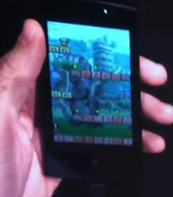 Microsoft showed the same game playing on the Xbox 360, desktop and Windows Phone 7 at MIX 10 last year.
Speaking to Seattle Times at E3, Mike Delman, vice president of global marketing at Microsoft's Interactive Entertainment Business group teased a unified future where all Microsoft's assets worked seamlessly together.
Mike noted that Xbox Live will be "a pervasive media service across devices" and that the team was committed to being "able to navigate through multiple devices in a certain ecosystem very seamlessly."
There have been rumours that the Zune brand will be replaced by Xbox Live, and Mike did not do much to dispel these.
He noted that "Live will be the primary entertainment service" and the goal was "buy a movie in one place and play it everywhere, buy a game in one place and play it everywhere."
He also hinted strongly that Microsoft will be introducing new devices by next year, saying "you will not just see consoles and handhelds at this show next year, this show's going to morph into other devices." He is likely referring to tablets, although suggestions of a Zune HD2 or Microsoft-branded tablet are not ruled out.
He laid quite a bit of emphasis on Windows 8 however as the locus for all the services coming together, saying "We have a ton of assets. Unifying the assets will be good for us and good for consumers."
With Microsoft no longer shackled by the DoJ, they can finally bring their disparate services back to the Windows platform and provide an integrated experience which will make the platform more competitive, something which will likely bring some excitement back to the Microsoft brand again.
Read the full interview at Seattle Times here.
Thanks Vijay for the tip.