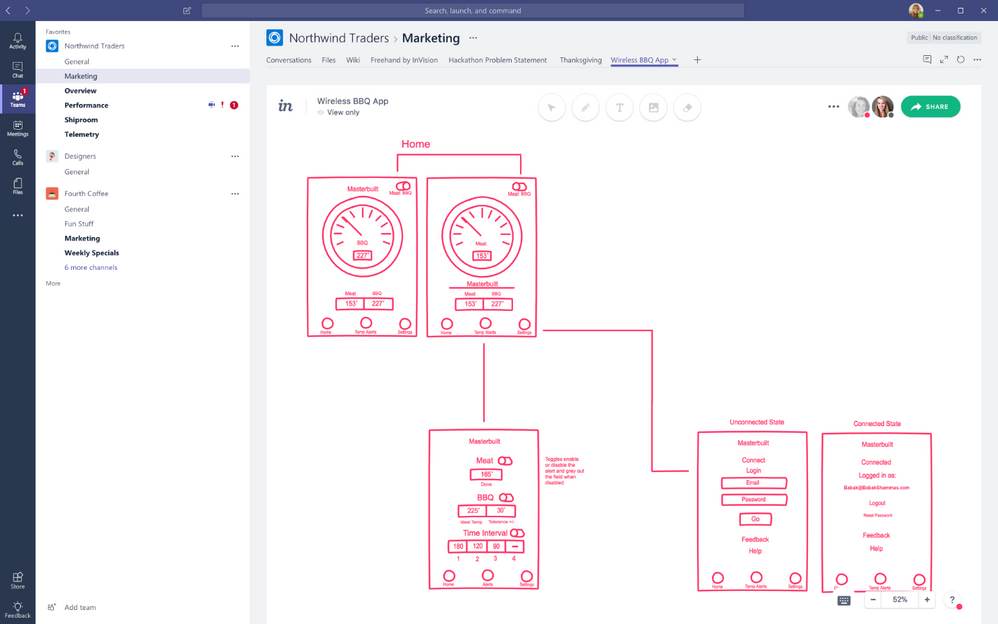 Last week, Microsoft announced a major update for Teams with redesigned app gallery, improved search features, support for command shortcuts and more. Teams also got several new Microsoft and partner apps and integrations recently. Some of the new Microsoft apps include News, Images, Weather, Stocks, Flow and more. Find some of the apps that were added recently below.
Freehand by InVision: Draw, plan and collaborate on an infinite whiteboard – in real time.
Microsoft Flow: Automate time-consuming and repetitive tasks by integrating your favorite apps and services with Microsoft Flow. With this integration, right from within Teams, you can create and manage flows, review your received and sent approvals, and launch flows with the Flow Bot.
Stocks:  Get real-time stock quotes and share them in a conversation. Search by company name or stock symbol.

Places: Places lets you look up detailed info about different businesses, restaurants, venues and more. Find out the address, hours of operation or reviews for a business, then share them in a conversation.

News: Stay up-to-date on current events courtesy of Bing News. Find coverage of local, national and worldwide news, then share it in a channel.

Images: Search Bing for the image you need and share it directly in a channel or chat

Weather: Find current weather reports for any city, zip code or location, then share them in a channel or chat.

Wikipedia Search: Do a quick search for a Wikipedia article and share it in a conversation.

+BI Collaboration: Keep your team updated with notifications on your Power BI items, documents, links and assigned actions in the +BI Collaboration SharePoint add-in with this connector. Help your business intelligence team to more tightly collaborate on your business intelligence efforts. This connector requires +BI Collaboration SharePoint add-in from the Microsoft Store.
PickIt:  Add Pickit to a channel in Microsoft Teams for free access to legally cleared images, icons and illustrations when you compose messages. Pickit Pro users can share their collections with other users and Pickit Bot also works inside flows using bot commands to browse for images.
Teams App Studio (Preview): Create new Teams applications and test bot cards using. Teams App Studio streamlines creation of the manifest for your app and provides other useful tools like the Card Editor and a React control library.
Who: Search for anyone in your organization based on what they're working on, who they work with and more.
Find the full list here.