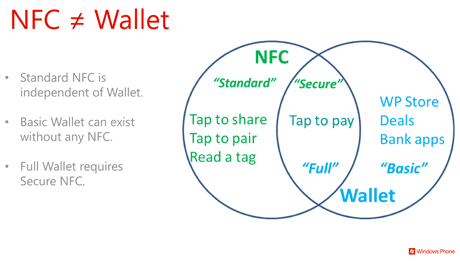 Microsoft's John Skovron, group program manager for Windows Phone, presented Windows Phone 8 at NFC World Congress at Nice recently and explained a few features of the new OS.
Skovron demonstrated a number of features of WP8's NFC capabilities, including peer-to-peer sharing, which Microsoft is calling "Tap+Send" and NFC-mediated Bluetooth pairing.
He also shared a photo between two Windows Phones over Bluetooth using the same NFC-mediated Bluetooth pairing and used this P2P mode to share a tic-tac-toe app between two devices.
He also spoke about the Windows Phone 8 wallet app, which he called the Wallet Hub, which would contain membership, loyalty and payment cards as well as deals, offers, tickets and passes.
NFCWorld writes:
The wallet has its own PIN and cards that can be used with the wallet will be called "Fast Cards". Users will be able to choose whether a particular card can be used only for mcommerce payments or for NFC payments or for both and can select whether cards will always be available or only when the wallet is active. Adding a new card will also prompt the user about other services from the card issuer by suggesting, for instance, that they download the issuer's app as well as the card.

The wallet's deals options are also integrated with Bing search so that users can both store and find deals — Bing will highlight places with deals in search results.

A key feature of the wallet will also be the use of "Wallet Agents". These allow developers to dynamically update wallet items and can be used to show the available balance on a particular card on the main wallet screen or to highlight a special offer or deal.
He noted that Wallet and NFC were two independent elements, which only overlapped for secure NFC payments.
"NFC is an introducing technology," Skovron explained,saying devices will include both NFC and a wallet application and that both have their separate uses.
The goal is "a seamless user experience," he added.
"Through extensibility, wallet items come alive with dynamic data and functionality," says Skovron. "Developers can choose how much information they want to give in the wallet and how much they want to drive users to the app itself."
He said the first NFC mobile wallet service is due to be run by Orange in France and Microsoft is also working with other business partners.
Read more at NFCWorld here.