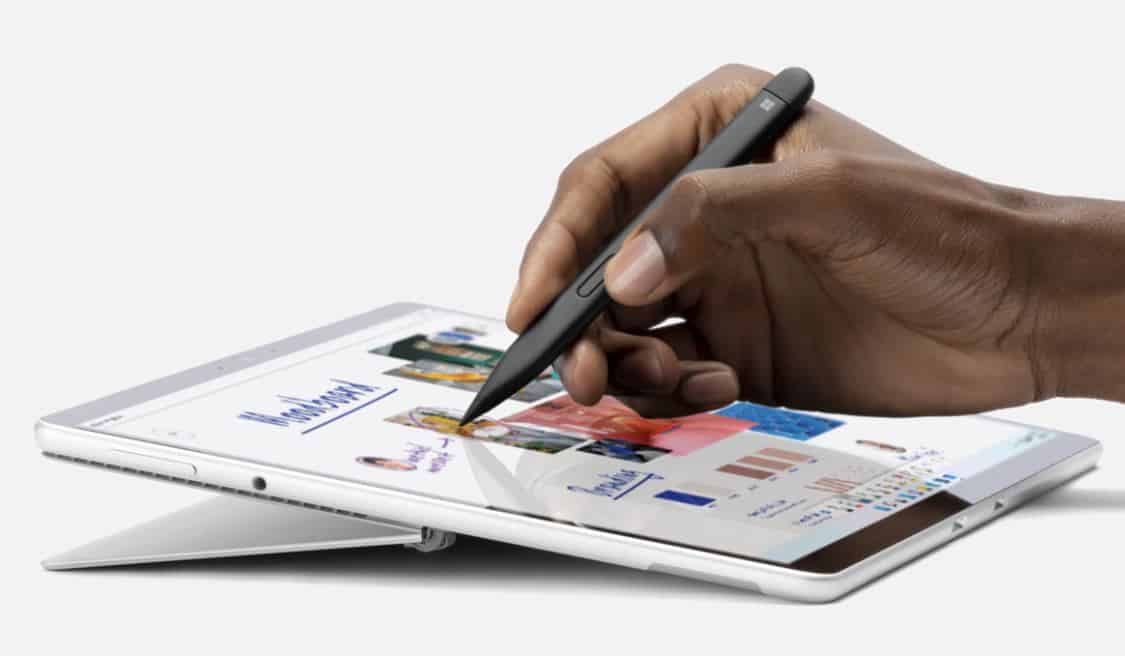 Microsoft today announced the Surface Slim Pen 2 with improved design, built-in haptic motor, 4,096 points of pressure sensitivity and ultra-low latency support. Microsoft claims that the new Surface Slim Pen 2 is its best performing pen yet, with real-time writing, pinpoint accuracy, and incredible?shading. The Slim Pen 2 also comes with a?sharper pen?tip. The Surface Slim 2 will work better with the new Surface Pro 8 and Surface Laptop Studio, thanks to the new custom Microsoft G6 processor.
The built-in haptic motor in Surface Slim Pen 2 activates to allow for a natural feel while notetaking and drawing. It's a subtle interaction that makes a huge difference. Tactile signals can also provide feedback when you're using natural gestures like circling to select in Microsoft 365 apps and using tools in Adobe Fresco.
Surface Slim Pen 2 Tech Specs:
Compatibility1,2,3

Surface Laptop Studio
Surface Pro 3 – Surface Pro 8
Surface Pro X
Surface Duo, Surface Duo 2
Surface Go, Go 2, Surface Go 3
Surface Hub 2S
Surface Laptop 1 – 4
Surface Studio 1, 2
Surface Book 1 – 3
Non-Surface devices that support Microsoft Pen Protocol (MPP)

Connection
Bluetooth® Wireless 5.0 Technology
Buttons
Side button, Top Button with eraser functionality
Tactile signals
Haptic feedback functionality compatible only with Surface Laptop Studio4 and Surface Pro 84 with Windows 11
Color and material
Matte Black Plastic Enclosure
Pressure and sensitivity
4,096 pressure levels
Zero force inking3
Dimensions
5.38" x 0.44" x 0.25" (136.8 x 11.3 x 6.3 mm)
Weight
0.03 lb (13 g)
Battery
Rechargeable Lithium Ion
Up to 15 hours of typical usage6
Battery capacities
Battery Capacity Nominal (WH): 0.171
Battery Capacity Min (WH): 0.164
Storage and charging (Sold separately)
Surface Slim Pen 2 storage and charging in Surface Pro Signature Keyboard , Surface Laptop Studio, and Surface Duo 2 Pen Cover
Surface Slim Pen Charger
Surface Slim Pen 1 USB-C Charging Base5
What's in the box
Surface Slim Pen 2
Quick Start Guide
Safety and Warranty documents
Warranty7
1 year limited warranty
You can pre-order the new Surface Slim Pen 2 for $129.99 here.
You can find the links to pre-order the new devices below.