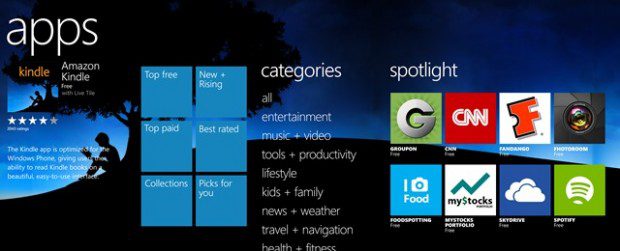 Microsoft today detailed the improvements and new features that will be part of Windows Phone Store experience in Windows Phone devices. Apart from the new Collections feature, there are several other new features.
New personalized recommendations: Windows Phone Store in WP8 devices in some markets offer a new list called Picks For You. Powered by Bing, this shows personalized app recommendations based on things like what you've downloaded in the past, what your Facebook friends downloaded, and what apps are typically get downloaded together. The list also surfaces popular regional apps.
Improved Search and Listing:Â Search in Marketplace is now powered by Bing which tolerates spelling mistakes. Also, Apps that are downloaded frequently, pinned to start, and receive great ratings will rank higher in lists like Top Free or Top Paid than ones that crash often, receive poor ratings, or are regularly uninstalled
More to buy, easier to pay: Users can now buy apps, do in-app purchases using Wallet feature in Windows Phone 8 keeps credit cards and other payment options such as PayPal in one place secured by PIN.
Parental Control:  My Family on the Windows Phone website makes it easier for parents to decide when (and if) your kids can buy apps and which game ratings they're allowed to play on their Windows Phone 8 phones. Also we are well aware of the new Kids Corner feature for kids.
I think these make a pretty significant improvement to Windows Phone Store that will make our whole experience even better. What do you think?
Source: Windows Phone blog 1,2