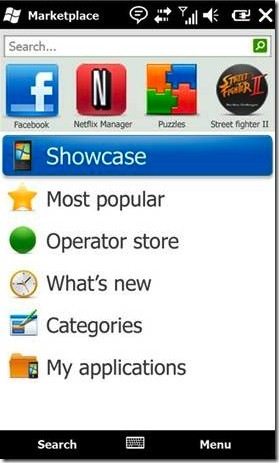 In the early days, when Marketplace was first rumoured, it seemed pretty certain that Microsoft would not abandon their installed base of more than 30 million smartphones and keep the software store a Windows Mobile 6.5 exclusive.  Then followed a series of announcements in the beginning of the year which suggested Microsoft had taken leave of their senses, and instead of leveraging their huge installed base to motivate developers would instead only offer a few million devices as an initial carrot.
Today's announcement from Microsoft's Worldwide Partner Conference should however keep Microsoft from the insane asylum. Marketplace for Windows Mobile will in fact be coming to Windows Mobile 6.1 and 6.0 devices by the end of the year, meaning developers with applications with only a niche appeal would in fact stand a chance of making money.
Less portentous news is that Microsoft intends to have a category called Business Centre where (presumably higher priced) corporate-focused apps and utilities can be purchased, and also that Microsoft will start taking submissions for the catalogue on the 27 July 2009.
Now if Microsoft could just learn than a white background is not really that attractive …
Read more here.
Via Engadget.com