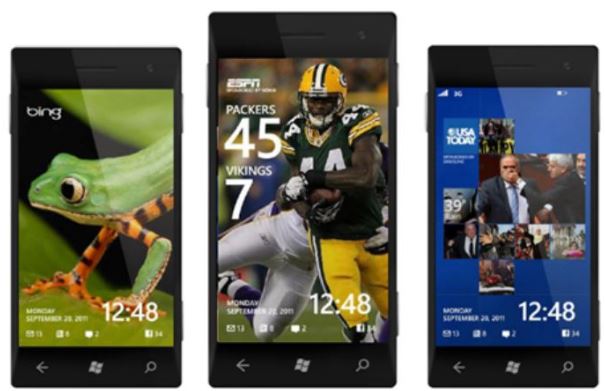 One of the main visual feature that Microsoft introduced in Windows Phone 8 is the live lock screen feature. You can customize the lock screen with your favorite app which supports this feature so that you can enjoy the content you need right at your start screen every time you unlock your phone.
Microsoft has applied for a patent on this technology and here is the abstract,
Active Lock Wallpapers:
The subject disclosure is directed towards a technology in which a mobile     device such as a phone automatically changes its lock wallpaper content     (e.g., an image or video) that appears when the device is in its lock     state. An API or the like allows information to be received from an     application or service according to which the content is changed,     including obtaining the content as needed. The lock wallpaper content may     change in response to an automatic change event, and may correspond to a     current device context. For example, lock wallpaper content may be     displayed based upon a currently playing podcast, audio track, or     currently running application program or service. The lock wallpaper may     change among content obtained from a social networking site, or from a     favorites store. The device may allow gesturing to change the content.
Another interesting Microsoft patent I came across today is the capacitive touch controls lockout.
In embodiments of capacitive touch controls lockout, a computing device     includes a touch-screen display for user interaction, and includes one or     more capacitive touch controls for user selection as a device input to     initiate a device action. The computing device also includes a lockout     service that is implemented to disable one or more of the capacitive     touch controls based on user interaction with the touch-screen display.
Read more about them in the link below.