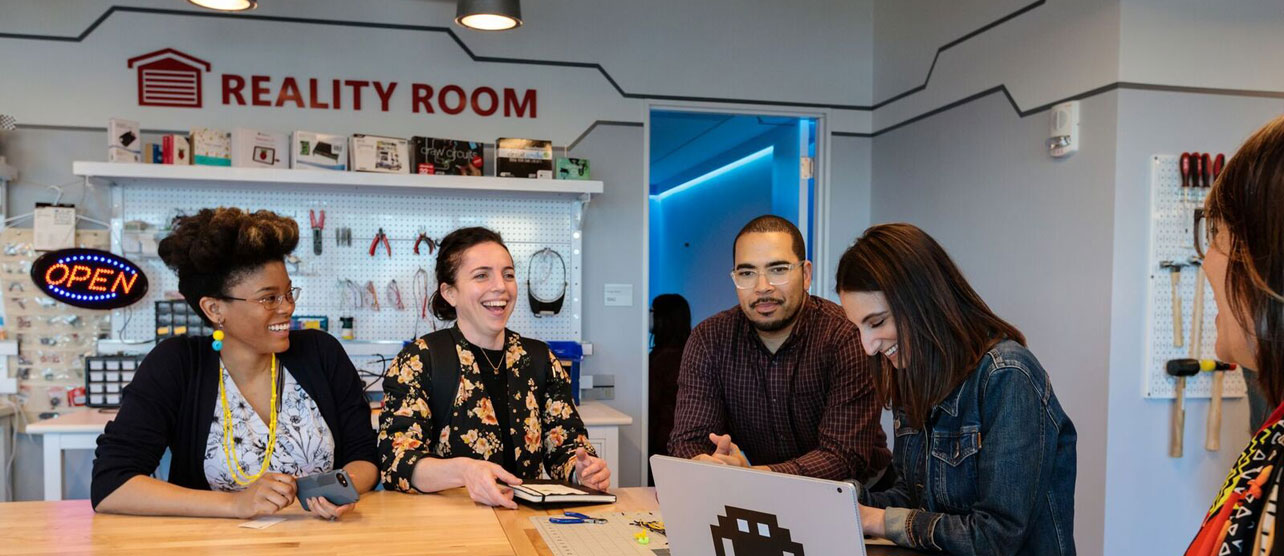 Microsoft today announced the opening of its seventh Microsoft Garage at the New England Research & Development Center (NERD) in Cambridge. Students, educators, and tech pros visited the new Garage location to learn about the projects that are being developed at this site. The new Garage occupies nearly 15,000 square feet of space and it provides the following:
plenty of room to congregate, with a large Hub space on the 1st floor for Garage events, presentations, and workshops that inspire experimentation and collaboration.
a makerspace, where local students and tech professionals can also book time, which includes  3D printers, soldering equipment, metal stamper, and other tools for hands-on exploration to spur creativity and learn new skills. The advanced makerspace includes laser cutters, flatbed printer, vinyl printer cutter, and other machines not readily available to help people take their creative ideas to a new level.
a Reality Room where visitors can don headsets and take a deep dive into augmented, virtual, and mixed reality, and experiment with cool Microsoft technologies like HoloLens and Windows Mixed Reality.
space for the Garage internship program for university students, newly expanded and with an open floor plan and a location next to the makerspace.
There's also a coffee bar (fondly called Clippy's Coffee Bar, a tribute to the Clippy), and an outdoor space with a deck for employees and locals to relax and enjoy the natural beauty of the Charles River and Kendall Square.
Jeff Ramos, partner director of The Garage said the following about opening of this new space,
"This is our 7th Garage, and along the way, RE&F has been a key partner to us, from the first Garage in Redmond in 2013 to today in Cambridge. We're able to connect to the local community more than ever because of that collaboration with RE&F and the amazing spaces they're building."
Linda Thackeray, director of The Garage at NERD said, "We don't think of this as 'our' Garage, "It's a Garage for the community, and it will only be as successful as the community makes it. We want it to be a platform for our employees to find additional meaning and dimension in their work. But we also want it to be a resource for the community—where thought leaders both inside and outside Microsoft can come, collaborate, and see what's possible."
Source: Microsoft