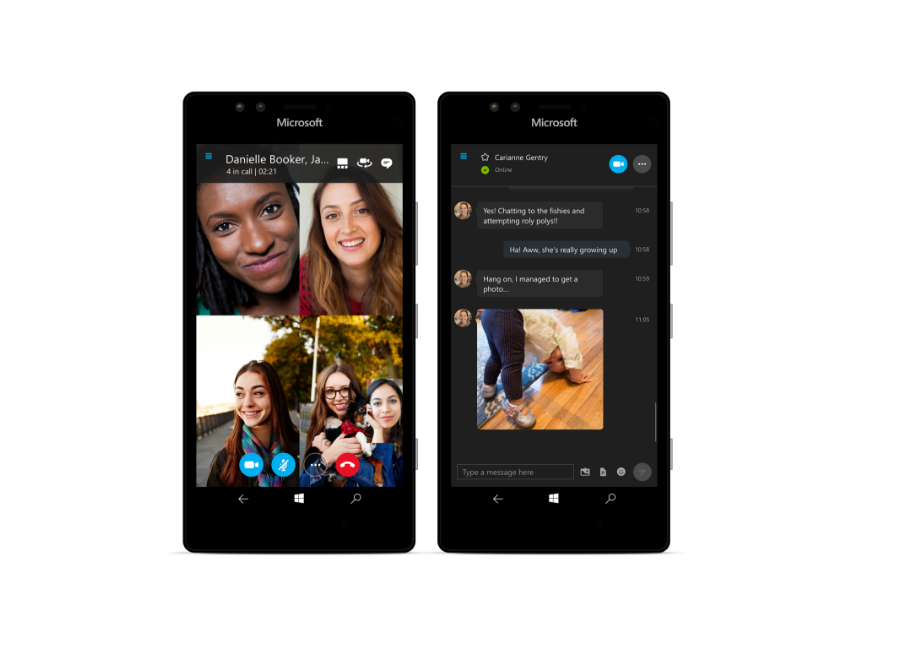 After months of testing, Microsoft is today launching the Skype UWP app for Windows 10 Mobile. The company has been testing the app on PCs with Windows Insiders for a few months, and Insiders can now download it on their Windows 10 Mobile. The new Skype UWP app includes a redesigned user-interface, a couple of new features and more. Skype UWP's design is pretty good on Windows 10 Mobile – however, a lot of users may not like it as the app does not follow some of Microsoft's own design guidelines for Windows 10. As for features, the app supports basic features such as the ability to send a message, delete a message, make audio/video calls, send pictures, send Mojis and send emojis.
Microsoft states:
This release brings one of our most requested Skype features to your Windows 10 phone, the ability to make group video calls. You can have up to 25 friends and family come together on a free group video call, talk face-to-face with a 1:1 call, message your friends in an instant to share photos, video messages, your location and even send emoticons and Mojis to liven up your conversation. You can also quickly reply to Skype messages – no need to open Skype.
Microsoft is also adding support for Skype Bots on PC and Mobile today:
We've made it easier for you to find people in search. We've added additional collaboration tools such as file sharing, screen sharing and translation for audio and video calls. For a new way to bring expertise, products, services and entertainment into daily messaging on Skype, we've also released a preview of Skype Bots. Lastly, we've many improvements overall app performance and experience.
Alongside Skype Bots and the new Mobile app, Microsoft has also announced that the company will be releasing Messaging Everywhere for Windows 10 later this Summer, stating:
Later this summer we will bring new features to Skype on Windows 10 Mobile, including SMS relay. With this feature, you'll be able to send SMS messages from a Windows 10 PC or Windows 10 phone, giving you the ability to send and receive texts, group messages, and photos all in one app, as well as a single view of your SMS and Skype conversations.
If you are a Windows Insider, you can download the Skype UWP app for Windows 10 Mobile right now from the link below. And if you aren't an Insider, you will be able to install the app on your Windows 10 devices once Microsoft releases the Anniversary Update on August 2.